National Assembly of the Republic of Serbia / Activities / Activity details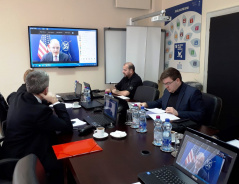 24 February 2021 MPs taking part in the virtual meeting hosted by the US Mission to NATO (USNATO)
Wednesday, 24 February 2021
MPs Take Part in Virtual Meeting Hosted by US Mission to NATO (USNATO)
Dragan Sormaz and Danijela Vujicic, members of the National Assembly delegation to NATO PA, as well as MPs Prof. Dr Zarko Obradovic, Natasa Mihailovic Vacic, Sandra Jokovic and Predrag Rajic, took part in a virtual meeting hosted by the US Mission to NATO (USNATO).
---
The participants of the meeting were first addressed by the USNATO Mission Charge d'Affaires Douglas Jones and US Ambassador to Serbia Anthony Godfrey.
On behalf of the USNATO mission the MPs were addressed by Jeremy Edwards, USNATO political officer, and on behalf of KFOR by Michael Stieg, USNATO political officer and Lieutenant Colonel John Gerlach, USNATO defence policy advisor.
Silvia Maretti, representative of the NATO HQ Public Diplomacy Department, spoke about current events in NATO, while the final address was given by Serbian Ambassador to NATO Branimir Filipovic.
The objective of these meetings is to brief and improve Serbia's partnership with NATO.
---
---
wednesday, 8 december
11.00 - sitting of the Committee on the Economy, Regional Development, Trade, Tourism and Energy (National Assembly House, 13 Nikola Pasic Square, hall 2)