National Assembly of the Republic of Serbia / Activities / Activity details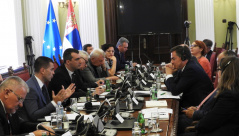 26 August 2019 The MPs meet with the Chair of the European Parliament's Committee on Foreign Affairs David McAllister
Monday, 26 August 2019
MPs Meet with EP Foreign Affairs Committee Chair David McAllister
The Chair of the European Parliament's Committee on Foreign Affairs David McAllister, who visited the National Assembly today, met with the MPs to discuss European integration and the current political situation in Serbia.
---
Opening the meeting, MP Dr Vladimir Orlic congratulated McAllister on his recent re-election to the European Parliament and to the post of chair of the EP Committee on Foreign Affairs, wishing him success. He also thanked the guest for the unswerving support for Serbia's European integration stressing that EU accession continues to be the country's number one foreign policy priority with a steady 53% plus public support in the last year.
David McAllister said that following the election 60% of the EP is comprised of new members but despite the change it and the new European Commission will remain committed to EU enlargement especially as regards the Western Balkans. EU accession will be very beneficial for the Serbian society, people and economy, as well as for the EU itself which will be gaining a state with a long tradition, said McAllister.
The meeting was also attended by Djordje Milicevic, Dr Milorad Mijatovic, Marijan Risticevic, Petar Petrovic, Haji Milorad Stosic, Nenad Milic, Elvira Kovacs, Gordana Comic, Miroslav Aleksic, Jovan Jovanovic, Tatjana Macura and Sanda Raskovic Ivic who talked about the current political situation in Serbia and the National Assembly's work following the recommendations of the European Commission's 2018 Progress Report.
The officials also spoke about the dialogue between the ruling majority and the opposition and next year's parliamentary, provincial and local elections.


---
---
wednesday, 25 may
No announcements for selected date