National Assembly of the Republic of Serbia / Activities / Activity details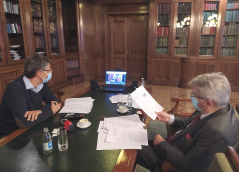 26 October 2020 MPs Mladen Grujic and Dr Milorad Mijatovic
Monday, 26 October 2020
MPs Grujic and Mijatovic at IPU 12+ Geopolitical Group Virtual Meeting
MPs Mladen Grujic and Dr Milorad Mijatovic took part today in the virtual meeting of the Inter-Parliamentary Union (IPU) 12+ geopolitical group - presentation of the candidates for Group Chairperson.
---
Having interviewed the candidates, the Group members elected Dutch MP Arda Gerkens Chairperson to head the Group for the next two years.
The members went on to discuss issues concerning the meeting of the IPU Governing Council to be held 1 – 4 November 2020 instead of the interparliamentary institution's regular plenary session.


---
---
monday, 15 august
11.00 - press conference of MP MA Ivan Kostic (National Assembly House, 13 Nikola Pasic Square, Central Hall)