National Assembly of the Republic of Serbia / Activities / Activity details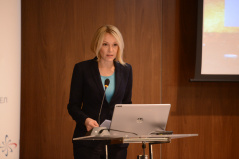 28 November 2018 MP Stefana Miladinovic
Wednesday, 28 November 2018
MP Stefana Miladinovic at ERGP Open Workshop and Plenary Hosted by RATEL
MP Stefana Miladinovic, Deputy Chairperson of the Committee on Spatial Planning, Transport, Infrastructure and Telecommunications, spoke at the opening of the ERGP (European Regulators Group for Postal Services) open workshop for representatives of the postal and other related sectors and ERGP Plenary meeting for postal regulators, hosted by RATEL and attended by participants from 36 countries and representatives of the European Commission.
---
First off, she greeted ERGP Chair Jack Hamande and the representatives of postal regulators and operators, welcoming them to the Plenary.
"It is a great honour to address you on behalf of the Committee on Spatial Planning, Transport, Infrastructure and Telecommunications of the National Assembly of the Republic of Serbia, which is, among other things, in charge of postal services. I am pleased that RATEL and with it Serbia, a non-EU country, are hosting this important and influential scientific gathering. The Plenary and its accompanying conference being held in a country with the status of observer is a unique occurrence closely related to the EU's outreach to the Western Balkans and effort to include the Western Balkan countries into its activities as much as possible, as well as the status RATEL enjoys with ERGP and EC", said MP Stefana Miladinovic, adding that gatherings such as this are important for the Republic of Serbia from a number of aspects – advancement the Euro-integration process which is a state priority, promotion of Serbia as a good and reliable ally, development of the feeling of mutual partnership and respect, which is just as important as meeting the formal legal and economic prerequisites.
"I would like to emphasize the significant role of independent regulatory bodies in this process. They secure the uniform development, transaction predictability, service availability and maximum usefulness for the citizens. Today's session, as well as RATEL's previous international activities, go a long way to improve Serbia's cooperation with the EC resulting among other things in the organization of this Plenary", said Stefana adding that the Bill on Postal Services has entered National Assembly regular procedure. "The Committee I am member of is doing all in its power to make sure the Bill is passed as it is very important for all the stakeholders on the postal market. It is our job to pass good laws and yours to enable the development of postal services to the mutual pleasure of both the users and employees in the field" said Miladinovic.


---
---
thursday, 24 september
No announcements for selected date