National Assembly of the Republic of Serbia / Activities / Activity details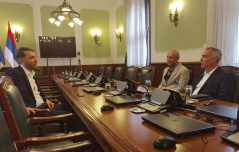 20 July 2021 MP Milan Urosevic receives representatives of the European Prayer Breakfast
Tuesday, 20 July 2021
MP Milan Urosevic Receives Representatives of European Prayer Breakfast
MP Milan Urosevic received today at the National Assembly House members of the organisation European Prayer Breakfast, held every year in the European Parliament in Brussels.
---
Carlton Deal and James Benfante said that this year the Prayer Breakfast would be held on 1 December because the practice is to have it on the first Wednesday in December. The members of the organisation said that the event would be attended by 150 guests from all over Europe, which is an excellent opportunity for parliamentarians to get in touch.
Milan Urosevic pointed out that the Prayer Breakfast is an opportunity to exchange ideas and opinions between high officials of different political and ideological viewpoints. He added that he was honoured to be invited to attend yet another Prayer Breakfast organised by the European Parliament, where he would have the opportunity to present the work of the National Assembly of the Republic of Serbia and the developmental potentials of local communities, such as his home town of Kragujevac.
Urosevic went on to speak about the organisation of the Balkan Prayer Breakfast, held every year in a different country in the Balkan region and modelled after the Prayer Breakfast in Washington.
After the meeting, the members of the European Prayer Breakfast organisation had the opportunity to visit the building of the House of the National Assembly.
---
---
tuesday, 30 november
11.30 - 51st meeting of the National Assembly Collegium (National Assembly House, 13 Nikola Pasic Square, hall 1)

13.00 - sitting of the Culture and Information Committee (National Assembly House, 13 Nikola Pasic Square, hall 3)

13.00 - Eighth Special Sitting of the National Assembly of the Republic of Serbia, 12th Legislature (National Assembly House, 13 Nikola Pasic Square)

13.30 - the National Assembly Speaker addresses Hanukkah celebration (National Assembly House, 13 Nikola Pasic Square, Small Hall)

13.30 - Hanukkah celebration (National Assembly House, 13 Nikola Pasic Square, Small Hall)