National Assembly of the Republic of Serbia / Activities / Activity details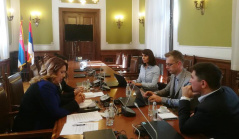 1 October 2019 MP Dusica Stojkovic in meeting with the representatives of the National Democratic Institute
Tuesday, 1 October 2019
MP Dusica Stojkovic Talks to NDI Representatives
MP Dusica Stojkovic met today at the National Assembly with representatives of the National Democratic Institute (NDI) to discuss the National Assembly and its members' cooperation with this organization and possible future joint projects.
---
Dusica Stojkovic said that she had, under the auspices of the NDI and the National Assembly's project, opened a local constituency office in the municipality of Rakovica in 2017. The citizens were very interested in the office since it proved they do not know enough about their rights and the procedures and purview of state institutions, public companies and authorities. She said that by communicating with the citizens she realized that they want to be heard, instructed how to address their problems and learn more about the work of the municipality, city, the National Assembly and the Government.
The representatives of the National Democratic Institute Wim Borremans and Marzia Faraz presented the organizations' coming projects and asked about the current political situation in Serbia and the work of the National Assembly.
They also spoke about possible future joint projects of the MPs and NDI. Dusica Stojkovic said that NDI's support in strengthening democratic institutions is always welcome and the MPs are very interested in continuing to open local constitution offices.
Stojkovic said that some support in the drafting of state youth policies would be very useful to stem the brain-drain and youth empowerment projects to encourage political activation especially of young women.


---
---
tuesday, 29 november
11.00 - sitting of the Committee on Finance, State Budget and Control of Public Spending (National Assembly House, 13 Nikola Pasic Square, hall 2)

11.00 - video meeting of the members of the National Assembly Foreign Affairs Committee and the Ukrainian Verkhovna Rada (National Assembly House, 13 Nikola Pasic Square, hall 4)

12.00 - press conference of MP MA Ivan Kostic (National Assembly House, 13 Nikola Pasic Square, Central Hall)

12.30 - the National Assembly Speaker meets with Cypriot Minister of Defence (National Assembly House, 13 Nikola Pasic Square, hall 1)