National Assembly of the Republic of Serbia / Activities / Activity details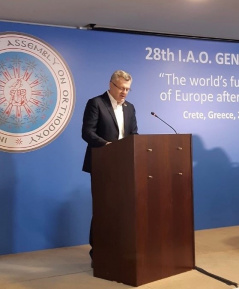 25 July 2021 The Head of the National Assembly's standing delegation to PABSEC MA Igor Becic at the IAO session
Wednesday, 28 July 2021
MA Igor Becic Represents PABSEC at IAO Session
MA Igor Becic, Head of the standing delegation of the National Assembly of the Republic of Serbia to the Parliamentary Assembly of the Black Sea Economic Cooperation (PABSEC), took part in the 28th General Assembly of the Interparliamentary Assembly on Orthodoxy (IAO), held 22-25 July 2021 on Crete. The session was attended by MPs from the IAO member countries, representatives of the orthodox church, international parliamentary organisations and the local authorities.
---
The Head of the National Assembly's standing delegation to PABSEC, MA Igor Becic spoke on the assembly's main topic "The future of the world, the future of Europe after the pandemic". Mr Becic pointed out that COVID-19 is a global health crisis and at the same time a deep socio-economic and political challenge which has had a significant impact on all social spheres, adding that countries can offer a successful global response only through mutual cooperation, solidarity and respect. Because of the pandemic, we had to adapt to new working conditions and embrace the online format, however, we never stopped working and we met digitally - Becic emphasised. He highlighted the successful vaccination process in the Republic of Serbia, as well as the assistance the country provided to the region, enabling its citizens to be vaccinated in Serbia.
Mr Becic also emphasised the importance of the wider Black Sea region in world politics, the need to strengthen inter-religious dialogue, peace, co-operation and a common approach to tackling challenges. He also underlined the importance of parliamentary diplomacy in resolving current issues in the region and strengthening political stability.
The Head of the National Assembly's standing delegation to PABSEC MA Igor Becic and PABSEC Secretary General Asaf Hajiev had a meeting with IAO President Sergei Gavrilov and the IAO Secretary General Maximos Charakopoulos and expressed readiness to further strengthen cooperation between the two organisations, as well as organise a seminar dedicated to security and stability in the wider Black Sea region. Mr Becic stressed that the Republic of Serbia is always open and ready to cooperate in organising events of this kind, bearing in mind the need to preserve peace, stability and security.
---
---
saturday, 16 october
No announcements for selected date