National Assembly of the Republic of Serbia / Activities / Activity details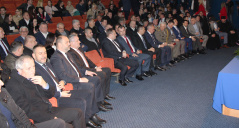 12 March 2020 The Chairman of the Committee on the Diaspora and Serbs in the Region Miodrag at the celebration of the Day of the Municipality of Srebrenica
Thursday, 12 March 2020
Linta at the Celebration of the Day of the Municipality of Srebrenica
The Chairman of the Serbian Assembly's Committee on the Diaspora and Serbs in the Region Miodrag Linta attended the celebration of the Day of the Municipality of Srebrenica that began with a session of the Srebrenica Municipal Assembly in the town's Cultural Centre.
---
Linta congratulated the people of Srebrenica on the Day of the Municipality, wishing them that they live in peace and harmony, to respect and appreciate each other. The Serbian people in the Municipality of Srebrenica and the region of Birac had suffered a lot in the 20th century, especially in the unprecedented genocide in NDH and brutal crimes and ethnic cleansings in the 1990s. It is absolutely unacceptable that Serbia and the Serbian people be falsely accused by Bosniak politicians, intellectuals and church dignitaries of alleged aggression against Bosnia and Herzegovina, that the Republic of Srpska is built on crime and genocide and that there was genocide in Srebrenica. The goal of these false and baseless accusations is to abolish the Republic of Srpska and oblige Serbia to pay alleged war reparations. That is why it is important to launch a strong diplomatic, legal and political initiative to inform the international community about the true character of the war and disprove the false myth about the genocide in Srebrenica.
Linta said that Serbia respects the Dayton Accords and insists they be implemented consistently. Sarajevo's attempts to transfer authority from the entity to the level of Bosnia and Herzegovina in order to create a unitary and centralized state are absolutely unacceptable. Serbia loves and strongly supports the Republic of Srpska through a series of projects realized in all the local self-governments thanks to President Aleksandar Vucic. Also, funds were donated thanks to the Serbian Government, which the Municipality of Srebrenica invested into the purchase and construction of production halls to create new jobs. It is important to stress that in the last four years four production facilities were opened in Srebrenica making it possible for its citizens to make a living.
Serbian Minister of Defence Aleksandar Vulin and the Minister of Energy and Mining in the government of the Republic of Srpska Petar Djokic were among the guests of the event hosted by the President of the Municipality of Srebrenica Mladen Grujicic and associates.


---
---