National Assembly of the Republic of Serbia / Activities / Activity details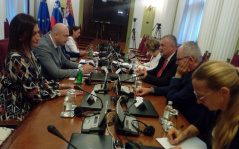 17 September 2019 The Health and Family Committee in meeting with the Slovenian Parliamentary delegation
Tuesday, 17 September 2019
Laketic Talks Healthcare Cooperation with Slovenian Delegation
The Chairman and members of the Health and Family Committee met today at the National Assembly House with a delegation of the Slovenian PFG with Serbia to discuss the situation in healthcare in Serbia and Slovenia.
---
The Chairman of the Health and Family Committee Dr Sci.med Darko Laketic briefed the guests on the scope and results of the Committee's activity, stressing that a series of modern healthcare laws, in line with European regulations, had been adopted recently. The Committee does not see its role as only legislative, it is also proactive in organizing sessions outside of the National Assembly seat which puts it in direct contact with the citizens.
In the last 6-7 years Serbia has been heavily investing into its healthcare system which has resulted in the reconstruction of 15 hospitals and construction of four clinical centres, one of which has been finished. As Chairman of the Commission to Investigate the Consequences of the NATO 1999 Bombing on the Health of the Citizens of Serbia, as well as the Environment, with a Special Focus on the Impact of the Depleted Uranium Projectiles, Laketic said that an increase in the occurrence of malignant diseases due to soil pollution has been noted, which is quite a challenge for the healthcare system.
Dr Franc Trcek of the Slovenian delegation said that an increased incidence of cancer is a big problem also noted by the Slovenian healthcare, stressing the need to raise public awareness on prevention. He said that, though he believes the Slovenian healthcare system to be among the best in the world, there still are areas that require advancement and investment.
Slovenian delegation member Lidija Divjak Mirnik said that childhood obesity is a rising problem in Slovenia, which calls for strategic involvement of children in sports.
The officials agreed that palliative care and availability of old people's homes are a problem in both countries, as are low birth rates, which puts Serbia and Slovenia firmly in the ranks of so-called "old states". They also agreed that connecting the two healthcare systems through cooperation and exchange of experiences could be mutually beneficial.
The meeting was also attended by Dr Dragana Barisic and Prof. Dr Milan Knezevic who spoke about the Commission for the Control of the Execution of Criminal Sanctions and Working Group for Civic Petition which they are members of.


---
---
monday, 16 may
No announcements for selected date