National Assembly of the Republic of Serbia / Activities / Activity details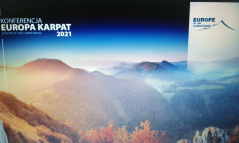 27 February 2021 Online conference "Europe of the Carpathians"
Monday, 1 March 2021
Kovacs and Markovic at "Europe of the Carpathians" Online Conference
National Assembly Deputy Speaker and Chairperson of the European Integration Committee Elvira Kovacs and Foreign Affair Committee Deputy Chairperson Vesna Markovic took part in the online conference "Europe of the Carpathians", organised by the Polish Parliament on 27 and 28 February 2021.
---
This was the 28th conference held this time online due to the pandemic. The topics of the two-day conference were cooperation in the Visegrad Group (V4), challenges to the future of Europe and the position of Central Europe on the international scene, North-South infrastructure by 2040, The Green Agreement, road traffic safety in terms of passengers and the environment, development of border areas, The Three Seas Initiative and digitalisation.
On the second day of the convention the participants discussed issues concerning agriculture, cultural heritage and youth cooperation.
---
---
saturday, 25 june
No announcements for selected date