National Assembly of the Republic of Serbia / Activities / Activity details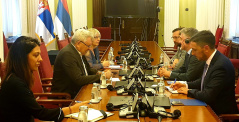 12 July 2019 The of the Committee on the Judiciary, Public Administration and Local Self-Government Petar Petrovic in meeting with the Head of Council of Europe Office Serbia Tobias Flessenkemper
Friday, 12 July 2019
Judiciary, Public Administration and Local Self-Government Committee Chairman Meets with Head of Council of Europe Office Serbia
The Chairman of the Committee on the Judiciary, Public Administration and Local Self-Government Petar Petrovic met with the Head of the Council of Europe Office Serbia Tobias Flessenkemper today to discuss the coming amendments to the Constitution, constitutional amendment procedure and strengthening local self-governments.
---
The Committee Chairman briefed the Head of the Council of Europe Office on the procedure for the amendment of the Constitution that starts with a proposal to amend the Constitution which must be accepted by a two-¬third majority of the total number of deputies, followed by the adoption of amendments that also need to be accepted by a minimum of 167 deputies. The draft amendments to the Constitution do exist but the official text needs to be prepared in the form of proposal and submitted to the National Assembly by the Committee on Constitutional and Legislative Issues so that it can be put on the Assembly agenda. The Venice Commission has given a positive opinion to the draft amendment to the Constitution of the Republic of Serbia said the Chairman adding that he was sure the procedure for the amendment will be continued at the National Assembly in the near future.
Flessenkemper said that the main interests of the Office are media freedom, combating corruption, local self-government and the professional training of local-level civil servants as crucial for the reform of the public administration.
Petrovic said that the Committee closely cooperates with the Ministry of Public Administration and Local Self-Government and the National Assembly had in the past few years passed a number of laws to improve the position of the local self-government and harmonize national laws with EU acquis. The adoption of laws is accompanied by public hearings and debates wherein NGOs, state administration and all the interested parties help improve the proposed legislations. The Committee Chairman also explained the work of the State Prosecutorial Council and High Judicial Council and their cooperation with the National Assembly.
The Head of Council of Europe Office Serbia said that the Organization wishes to offer all-round support to the National Assembly to ensure the adoption of high-quality constitutional amendments, especially in the form of organizing public hearings and debates on the delicate topic.


---
---
monday, 23 may
No announcements for selected date