National Assembly of the Republic of Serbia / Activities / Activity details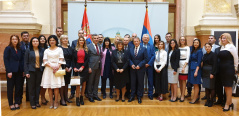 6 November 2019 The judges with Serbian Assembly Speaker Maja Gojkovic
Wednesday, 6 November 2019
Judges Take Oath of Office at National Assembly
Judges elected to judicial office in basic courts for the first time took the oath of office before Parliament Speaker Maja Gojkovic at the National Assembly today.
---
The oath of office was taken by the judges elected to judicial office for the first time at the Third Sitting of the Second Regular Session of the National Assembly on 23 October and at the 13th Extraordinary Session of the National Assembly on 10 July 2019.
The judges who took the oath of office will be serving in the basic courts in Despotovac, Trstenik, Loznica, Petrovac na Mlavi, Gornji Milanovac, Novi Sad, Novi Pazar, Arandjelovac and Mionica.
Gojkovic said she was sure that in the course of their mandate the newly-elected judges would arbitrate independently and without bias, in line with the law and Constitution, following their conscience and ensure a just trial for every Serbian citizen.
"We believe that during your three-year mandate in courts of basic and special jurisdictions as newly-elected bearers of judicial office, you will contribute to the continued reform of the judicial system to build an independent, modern and efficient judiciary and advance the rule of law", said the National Assembly Speaker.
Gojkovic wished the newly-elected judges success and expressed her firm belief that in their work they would follow their conscience and the law, ensuring that the law is equally respected for each citizen and contributing to the reputation of the judicial office.


---
---
tuesday, 16 august
12.00 - press conference of MP Srdjan Milivojevic (National Assembly House, 13 Nikola Pasic Square, Central Hall)