National Assembly of the Republic of Serbia / Activities / Activity details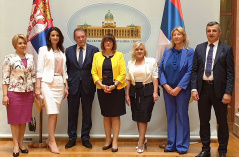 6 June 2019 Judges take the oath of office at the National Assembly
Thursday, 6 June 2019
Judges Take Oath of Office at National Assembly
Judges elected to judicial office for the first time at the Fifth Sitting of the First Regular Session of the National Assembly of the Republic of Serbia in 2019 on 21 May, took the oath of office today, at the National Assembly, before Parliament Speaker Maja Gojkovic.
---
Gojkovic said she believed the newly-elected judges would, during their term of office, contribute to the continued reform of the judiciary system to build an independent, modern and efficient judiciary and advance the rule of law.
"I believe you will arbitrate independently and without bias, in line with the law and Constitution, following your conscience, ensure a just trial for everyone and contribute to the reputation of the judicial office in the Republic of Serbia", Gojkovic told the newly-elected judges.
As stipulated by the Law on Judges, before assuming office, judges must take the oath of office before the National Assembly Speaker.


---
---
tuesday, 18 january
14.00 - the National Assembly Speaker meets with OSCE Parliamentary Assembly Secretary General (National Assembly House, 13 Nikola Pasic Square, diplomatic salon of Prince Pavle)