National Assembly of the Republic of Serbia / Activities / Activity details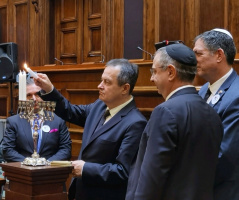 30 November 2021 Celebration of the Jewish holiday of Hanukkah at the National Assembly
Tuesday, 30 November 2021
Jewish Holiday of Hanukkah Marked at National Assembly
The National Assembly hosted a celebration of the Jewish holiday of Hanukkah today, co-organised by the Parliamentary Friendship Group with Israel and the Embassy of the State of Israel in the Republic of Serbia.
---
National Assembly Speaker Ivica Dacic wished all Jews and the State of Israel a happy holiday, with the hope they celebrate it surrounded by peace and family love, devoted to one another, as the long tradition dictates.

"Serbia and the Serbian people and Israel and the Jewish people are friends as they have been throughout their common history, both when we were victims and when we were winners", said Dacic. He also expressed his conviction that our glorious, common history would duty bind us to turn to each other and together build a good future.

Israeli Parliament Speaker Mickey Levy addressed the gathering via video message, stressing that it is an excellent was to mark the good relations between our peoples and parliaments. The ties between Serbia and Israel are strong and have resisted various challenges, Levy said. He also pointed out that next year marks the 30th anniversary of the establishment of diplomatic relations between Serbia and Israel, adding that the recent opening of a representative office of the Serbian Chamber of Commerce in Jerusalem also contributes to good relations.

The Head of the Parliamentary Friendship Group with Israel Prof. Dr Vladimir Marinkovic congratulated the holiday, pointing out that the institutions of the Republic of Serbia have an excellent relationship with the Jewish community, as evidenced by the adoption of the Law on remedying the consequences of the seizure of assets of Holocaust victims with no living legal heirs, by consensus. He opined that the activities of the two parliaments' friendship groups significantly contribute to interparliamentary cooperation.

The participants of the gathering were then addressed by the Head of Knesset's Parliamentary Friendship Group with Serbia Boaz Toporovsky, also via video message, who said that this is an opportunity to, in the spirit of Hanukkah, drive out darkness and spread light.

The event was also attended by the Ambassador of the State of Israel to Serbia Yahel Vilan and the Rabbi of the Jewish Community in Serbia Isak Asiel.

After the address, Rabbi Isak Asiel led the lighting of Hanukkah candles, followed by a performance of the "Baruch Brothers" choir.



---
Photo gallery
---
---
monday, 23 may
No announcements for selected date