National Assembly of the Republic of Serbia / Activities / Activity details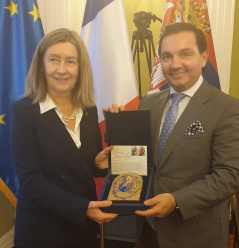 28 October 2019 National Assembly Deputy Speaker Prof. Dr Vladimir Marinkovic and the Vice-President of the French Senate Helene Conway-Mouret
Monday, 28 October 2019
It is Vital to Increase Serbia's Visibility in France
In the course of her visit to Serbia, the Vice-President of the French Senate Helene Conway-Mouret met with National Assembly Deputy Speaker Prof. Dr Vladimir Marinkovic to discuss interparliamentary cooperation, the economy and regional peace.
---
Recalling that Serbia was host to the 141st Assembly of the Inter-Parliamentary Union, attended by 12 French representatives and ending in the Belgrade Declaration Strengthening international law: Parliamentary roles and mechanisms, and the contribution of regional cooperation, the Deputy Speaker emphasized the very intensive parliamentary cooperation between France and Serbia, especially the Foreign Affairs Committee and European Integration Committee. He also spoke about the strong friendly ties France and Serbia have shared through history and the fact that over 100 French companies are currently doing business in Serbia, employing 11,000 people.
Conway-Mouret said that France has to move beyond the old Balkan Wars and Serbia has to improve its image which can be achieved through bilateral visits and strong economic cooperation. The concession contract for Belgrade airport Nikola Tesla is a sign of trust while a contract for the construction of Belgrade metro would be a move to strengthen economic cooperation for decades to come, the Senate Vice-President explained.
The meeting also touched on Kosovo-Metohija, an issue of great import for Serbia, region and Europe, Marinkovic said, stressing that Serbia remains committed to dialogue with Pristina. The Deputy Speaker said he hoped the future Pristina authorities would abolish the 100% customs tariff on goods from Serbia and a compromise that acknowledges Serbia's legitimate interests in Kosovo-Metohija would be reached with the Pristina authorities. The Vice-President of the French Senate said that France supports the efforts to stabilize the region and achieve a lasting peace and would continue to advocate dialogue between Belgrade and Pristina.

Finally, Marinkovic said that Serbia would use parliamentary diplomacy, politics and economy to come closer to France, its investors and people. Helene Conway-Mouret said that on returning to France she would send an official invitation to the members of the National Assembly to continue these talks.


---
---
friday, 5 june
13.00 - press conference of MPs Sasa Radulovic, Branka Stamenkovic and Vojin Biljic (National Assembly House, 13 Nikola Pasic Square, Central Hall)