National Assembly of the Republic of Serbia / Activities / Activity details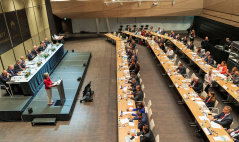 6 September 2019 The International Conference of the OSCE PA Silk Road Support Group
Sunday, 8 September 2019
Interparliamentary Support for One Belt One Road Initiative Continues
MPs Stefana Miladinovic and Dusica Stojkovic, members of the NARS delegation to OSCE PA, took part in the 3rd International Conference of the OSCE PA Silk Road Support Group, held on 5-7 September in Andermatt, Switzerland.
---
The attending parliamentary representatives of the nine member countries of the OSCE PA Silk Road Support Group stressed that the Belt and Road Initiative as the engine of SDGs has the potential to promote cooperation between the OSCE members, China and the countries on the route.
In the first panel, dedicated to sustainable infrastructure as the road to success, the attending were presented a series of successfully realized infrastructure projects within the Initiative. The hosts presented the new Alpine Transversal Rail Route (NEAT or NRLA - New Rail Link through the Alps), project realized in Switzerland and other completed infrastructural projects in the countries covered by the Belt and Road Initiative.
Stefana Miladinovic, head of the NARS delegation to OSCE PA, as rapporteur at the first panel, stressed that the Belt and Road Initiative is dedicated to the principle of sustainability, highlighting its social and environmental aspects as vital for the principle. In the course of the debate the participants agreed on the importance of parliamentary oversight and democratic participation for the One Belt One Road Initiative.
The participants also discussed financial risks and their possible mitigation and the application of the principle of transparency to the whole process.
One of the ideas of the organizers of the conference was to draw attention to environmental protection and local communities, highlighting human rights as an important factor.
The Conference was completed with the adoption of the Andermatt Declaration, endorsed by all the attending parliamentarians.
On day three of the Conference the attending were informed about the construction of the 57km-long Gotthard Base Tunnel in the Alps. The Tunnel, located on 2108 meters above sea level, is now vital for the rail and road traffic between Central and Europe and Italy and connects the key points on the corridor.


---
---
monday, 23 may
No announcements for selected date