National Assembly of the Republic of Serbia / Activities / Activity details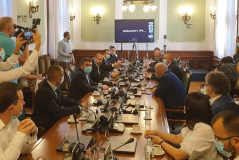 11 September 2020 International on-line conference "Serbian-American Relations – Yesterday, Today, Tomorrow"
Friday, 11 September 2020
International On-Line Conference "Serbian-American Relations – Yesterday, Today, Tomorrow"
The second international on-line conference "Serbian-American Relations – Yesterday, Today, Tomorrow", co-organized by the PFG with the US and the Institute for National and International Security (INIS), in the National Assembly House was opened today by MPs Dragan Sormaz and Dr Darko Trifunovic, Director of the Institute for National and International Security.
---
Reminiscing about last year's conference, Sormaz opined that the global pandemic has no prevented it from going ahead this year via video-link. Dragan Sormaz spoke of the two countries' 140 years of historic relations, reinforced by last week's meeting between their two presidents. He spoke of the importance of assessing the historic ties between Serbia and the US through past alliances in the First and Second World War, reflected in their shared values and concerted fight to preserve the principle of freedom. He also spoke of the recent evident intensification of overall bilateral cooperation, especially at the political and economic level, sure that it would contribute to the signing of a strategic partnership agreement between the two countries.
Dr Darko Trifunovic, Director of the Institute for National and International Security, joined the opening of the conference to introduce the participants and remind everybody of the friendly relations and alliances between Serbia and the US.
The participants of the conference discussed the relationship between Serbia and the US, the Agreement on the normalization of economic relations between Belgrade and Pristina signed in Washington, international security, anti-terrorism efforts and the migrant crisis. They exchanged experiences and views on the Serbian-American relations in terms security, educational and scientific cooperation, opening of an office of the US International Development Finance Corporation in Belgrade, and the importance of American investments and donations to the Republic of Serbia.
The conference was attended by MPs Dr Zoran Dragisic, Predrag Rajic, Ilija Zivotic, Lav Pajkic, Ivica Dacic, First Deputy Prime Minister and Minister of Foreign Affairs, Aleksandar Antic, Minister of Mining and Energy, Branko Ruzic, Minister of Public Administration and Local Self-Government, Michael Keller, political advisor and acting DCM of the US Mission to the Republic of Serbia, John Harris Jr, General in the Ohio National Guard, as well as relevant security, political tries and scientific experts.


---
---
tuesday, 29 november
11.00 - sitting of the Committee on Finance, State Budget and Control of Public Spending (National Assembly House, 13 Nikola Pasic Square, hall 2)

11.00 - video meeting of the members of the National Assembly Foreign Affairs Committee and the Ukrainian Verkhovna Rada (National Assembly House, 13 Nikola Pasic Square, hall 4)

12.00 - press conference of MP MA Ivan Kostic (National Assembly House, 13 Nikola Pasic Square, Central Hall)

12.30 - the National Assembly Speaker meets with Cypriot Minister of Defence (National Assembly House, 13 Nikola Pasic Square, hall 1)