National Assembly of the Republic of Serbia / Activities / Activity details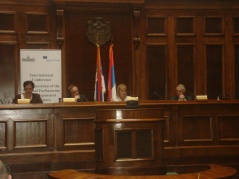 3 April 2012 National Assembly Speaker Prof. Dr Slavica Djukic Dejanovic at the international conference on "Cooperation of Parliaments and Independent Regulatory Bodies in South-East Europe"
Tuesday, 3 April 2012
International Conference on "Cooperation of National Parliaments and Independent Regulatory Bodies in South-East Europe"
The Speaker of the National Assembly of the Republic of Serbia, Prof. Dr Slavica Djukic Dejanovic opened the two-day international conference on "Cooperation of National Parliaments and Independent Regulatory Bodies in South-East Europe".
---
"For us, strong independent regulatory bodies, authorities and organisations – whose reports undergo serious deliberation and whose recommendations are implemented – are a sign of intensifying effective and efficient control over the executive, which is one of NARS's constitutional duties. In that sense, gaining economic independence, strengthening the role of these bodies and their overall capacities are just as important as strengthening the assembly bodies and control mechanisms", said Djukic Dejanovic.
The National Assembly Speaker reminded the gathering of the International Conference of November 2009 aimed at, among other things, reviewing the planned control of the executive and importance of independent state authorities and bodies for its successful implementation, adding that in the meantime the regulations themselves underwent significant changes.
"Those who took part in and followed these events remember the difficulties the independent bodies in Serbia experienced at the beginning, as well as the fact that even a provision in the Rules of Procedure that could be interpreted as a channel to exert pressure was eliminated, thus confirming our commitment to meaningful cooperation with independent regulatory bodies. That cooperation resulted in the Belgrade Principles – the model of good practice of the relationship between parliaments and human rights institutions launched last month from this House", said the National Assembly Speaker.
Djukic Dejanovic stressed that Serbia was not alone on that road and that many of the activities have been realised with the help of the European Movement in Serbia, OSCE Mission and the Friedrich Ebert Foundation.
"Today's conference, organised as part of Serbia's presiding over the South-East Europe Cooperation Process, is also the result of our attempts to improve the relationship and cooperation between national parliaments and independent regulatory bodies and share experiences in the sphere with countries in the region", said the National Assembly Speaker. She stated that the countries in the region are on different levels of the EU integration process which makes the exchange of knowledge and experience extremely important for each of them.
Dimitrios Kypreos, Head of the OSCE Mission to Serbia, Vlastimir Matejic, President of the European Movement in Serbia and Gordana Comic, National Assembly Deputy Speaker also had keynote speeches. The Conference is organised by the National Assembly and European Movement in Serbia, with the support of the OSCE Mission to Serbia, USAID and the Friedrich Ebert Foundation.
The meeting at the National Assembly House gathers experts, representatives of state authorities, independent bodies and civil society from Albania, Bosnia and Herzegovina, Bulgaria, Greece, Macedonia, Romania, Croatia, Slovenia, Moldova, Turkey and Montenegro.

---
---
| M | T | W | T | F | S | S |
| --- | --- | --- | --- | --- | --- | --- |
| 27 | 28 | 29 | 30 | 31 | 1 | 2 |
| 3 | 4 | 5 | 6 | 7 | 8 | 9 |
| 10 | 11 | 12 | 13 | 14 | 15 | 16 |
| 17 | 18 | 19 | 20 | 21 | 22 | 23 |
| 24 | 25 | 26 | 27 | 28 | 29 | 30 |
| 31 | 1 | 2 | 3 | 4 | 5 | 6 |
tuesday, 11 august
No announcements for selected date