National Assembly of the Republic of Serbia / Activities / Activity details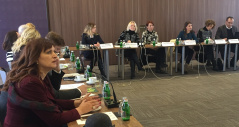 18 December 2018 The informal Green Parliamentary Group celebrates the 20th anniversary of the adoption of the Aarhus Convention
Tuesday, 18 December 2018
Informal Green Parliamentary Group Celebrates 20th Anniversary of Aarhus Convention
The informal Green Parliamentary Group had a working meeting to mark the two decades since the adoption of one of the most important environmental protection tools – the Aarhus Convention.
---
One of the conclusions of the meeting was that it is essential to raise public awareness on environmental issues, especially through education, both elementary and higher, and edification of the judiciary. Interdepartmental cooperation is also vital to ensure a concerted approach to this serious issue.
The meeting was attended my MPs Gordana Comic, Nada Lazic, Jasmina Karanac, Dr Predrag Jelenkovic, Zoran Despotovic, Dubravka Filipovski, Zarko Bogatinovic, Mladen Lukic, Borka Grubor, Olena Papuga and Marija Janjusevic, representatives of the Ministry of Environmental Protection, Prof. Mirjana Drenovak Ivanovic of the Belgrade University's Faculty of Law, Young Researchers of Serbia executive Tanja Petrovic and Srdjan Matovic of the network of Aarhus entres.


---
---
wednesday, 8 july
No announcements for selected date