National Assembly of the Republic of Serbia / Activities / Activity details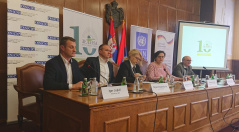 5 June 2019 The informal Green Parliamentary Group celebrates its 10th anniversary
Thursday, 6 June 2019
Informal Green Parliamentary Group Celebrates 10th Anniversary
The National Assembly hosted a conference in celebration of the 10th anniversary of the informal Green Parliamentary Group and World Environment Day. Over 60 participants had the opportunity to hear about the European perspective of fighting climate change from international guests and MPs from the country and the region.
---
Head of the OSCE Mission to Serbia Andrea Orizio said that the health of the environment defines the future of the citizens. "The parliament is the engine of democracy and the institutions. The informal Green Parliamentary Group is an excellent example of a gathering place for the opposition and ruling majority", said Orizio. He was one of the speakers in the panel that also featured MP Nada Lazic, Zarko Petrovic of UNDP, Simon Ilse of the Heinrich Böll Foundation, and Yngve Engström of the EU Delegation to Serbia and Sonja Licht of the Belgrade Fund for Political Excellence.
National Assembly Deputy Speaker Gordana Comic, Chairperson of the Serbian Parliamentary Energy Policy Forum Aleksandra Tomic, MP Dejan Radenkovic and State Secretary at the Ministry of Environmental Protection Serbia Branislav Blazic spoke at the second panel on experiences of informal inter-partisan parliamentary groups and whether working together is possible, which this panel has clearly proven to be true.
MP Nada Lazic, member of the Parliamentary Assembly of Bosnia and Herzegovina Sasa Magazinovic, member of the Parliament of North Macedonia Hari Lokvenec and member of the Parliament of Montenegro Aleksandar Damjanovic spoke in the third panel on the regional cooperation of parliaments and their informal green parliamentary groups. The participants exchanged best practice examples and views on the joint management of energy systems.

Vedran Horvat of the Croatian Institute of Political Ecology then presented the Green New Deal which was a platform in the European Parliament election.
The participants emphasized the importance of fostering a comprehensive and sustainable "green dialogue" among all interested parties and promoting environmental issues.
The conference was supported by the United Nations Development Programme (UNDP), OSCE Mission in Serbia and the Office for Democratic Institutions and Human Rights (ODIHR) and the Open Regional Fund for South-East Europe – Energy Efficiency (GIZ ORF EE).


---
---
monday, 28 september
No announcements for selected date