National Assembly of the Republic of Serbia / Activities / Activity details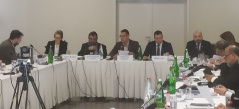 8 December 2021 The participants of the regional conference
Thursday, 9 December 2021
Inclusive Policies for Roma Regional Conference
Belgrade hosted the regional conference on "Inclusive Policies for Roma" on 8 December 2021. The conference was co-organised by the Subcommittee on Roma Affairs, established by the decision of the National Assembly's Committee on Human and Minority Rights and Gender Equality, HUGEN Network and the Westminster Foundation for Democracy, with the support of the OSCE Mission to Serbia.
---
The conference aimed to discuss Roma social participation, review their status at the level of legislation and strategies, as well as participation in institutions. The regional approach and exchange of experiences made it possible for the participants to consider best practice examples of affirmative action measures. As parliaments play an important role in improving the participation of the Roma community, the conference discussed the further directions of regional parliamentary cooperation. The conference participants were members of parliaments, representatives of executive bodies, independent state institutions and other bodies and organisations dealing with Roma issues from the Western Balkans region.
Opening the conference, the Chairman of the Committee on Human and Minority Rights and Gender Equality Dr Muamer Bacevac pointed out that the social inclusion of Roma is a European issue as well and that regional cooperation on improving the position of Roma contributes to our overall European integration. Prof. Dr Dragoljub Ackovic, Chairman of the Subcommittee on Roma Affairs, spoke to the participants about the history of political participation of representatives of the Roma community in the region, with a special focus on the participation of Roma in various levels of government in Serbia. Speaking about the access to the labour market, the conference participants stressed that Roma employment should be viewed as an investment, not an expense. MP Sandra Jokovic drew attention to the opening of new factories in Serbia as an opportunity in that regard, one that gives results in the form of increased employment of Roma, citing the examples from Kraljevo, and also pointed out to the good results in terms of vaccination of the Roma population in response to the pandemic.
In the course of the conference, the participants underlined the need to continue with the regional parliamentary cooperation in order to further encourage Roma men and women to join political life and decision-making processes, cooperation on key issues and problems facing Roma in the region, such as protection against discrimination, gender equality and greater participation of Roma women, as well as the need to strengthen the affirmation of Roma culture and monitor the implementation of the Poznan Declaration.
The participants concluded that this practice should be continued as it gives positive results in the field of Roma inclusion. They are of the opinion that the parliaments of all the participating countries should be informed about the views and conclusions expressed at the conference.
---
---
sunday, 22 may
No announcements for selected date