National Assembly of the Republic of Serbia / Activities / Activity details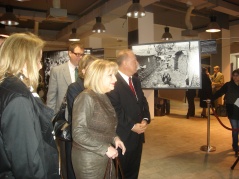 2 April 2012 National Assembly Speaker Prof. Dr Slavica Djukic Dejanovic at the opening of the In Search of Identity photo exhibition
Monday, 2 April 2012
In Search of Identity Photo Exhibition
The Speaker of the National Assembly of the Republic of Serbia, Prof. Dr Slavica Djukic Dejanovic and the Head of the UNHCR Representative Office in Serbia Eduardo Arboleda opened the photo exhibition on the stateless titled In Search of Identity, to commemorate the ratification of the 1961 Convention on the Reduction of Statelessness.
---
Speaker Djukic Dejanovic emphasised Serbia's determination to resolve the status of people without legal identity, reminding that the right to citizenship is a basic human right set out in the Universal Declaration of Human Rights. She said that the problem of people in danger of becoming stateless in the Republic of Serbia mainly afflicts the Roma, internally displaced persons and refugees, but that Serbia is on a good way to becoming the first state in the region to resolve the problem by adopting amendments to the Law on Extra-Judicial Procedure.
The National Assembly Speaker reminded that the Republic of Serbia Deputy Prime Minister and Government Minister Ivica Dacic confirmed that requests for citizenship and issuance of personal documents are being dealt with by accelerated procedure.
"This again proves the determination of the Republic of Serbia to assist the social group and enable them, in cooperation with UNHCR whose support we greatly appreciate, to gain citizenship and enjoy the rights stemming from it just like any other citizen. It also promotes international relations and regional stability. The content of today's exhibition demonstrates that the issue of stateless people, people in search of identity, is a global one. It should remind us that the lack of identity and not knowing where one belongs is the ultimate disempowerment. The exhibition also encourages us to seek a solution to the problem both in Serbia and globally", said the National Assembly Speaker.
The exhibition of 48 photos by the famous photographer Greg Constantine draws attention to the problem of 12 million stateless people around the world who lack fundamental human rights due to it.

---
---
wednesday, 5 october
10.00 - the Chairman of the Foreign Affairs Committee meets with the Belgian Ambassador to Serbia (National Assembly House, 13 Nikola Pasic Square, hall 2)

11.00 - the Chairman of the Foreign Affairs Committee meets with the US Ambassador to Serbia (National Assembly House, 13 Nikola Pasic Square, hall 2)

11.00 - the National Assembly Speaker meets with the Mexican Ambassador to Serbia (National Assembly House, 13 Nikola Pasic Square, hall 1)

12.00 - press conference of MPs Zoran Lutovac and Dragana Rakic (National Assembly House, 13 Nikola Pasic Square, Central Hall)

12.30 - press conference of the SERBIAN MOVEMENT DVERI – PATRIOTIC BLOC Parliamentary Group (National Assembly House, 13 Nikola Pasic Square, Central Hall)

12.45 - the National Assembly Speaker meets with the Iranian Ambassador to Serbia (National Assembly House, 13 Nikola Pasic Square, hall 1)