National Assembly of the Republic of Serbia / Activities / Activity details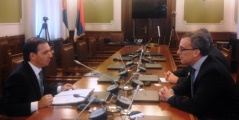 18 January 2017 Deputy Speaker Marinkovic and the EBRD representatives
Wednesday, 18 January 2017
Improvement of Legislative Framework and Relaxation of Tax System Essential for Development of Entrepreneurship in Serbia
Development of small and medium-sized enterprises in Serbia, especially in the IT and energy sector, sets a strong base for the country's economic development, was the conclusion of the meeting between National Assembly Deputy Speaker Prof. Dr Vladimir Marinkovic and the representatives of the European Bank for Reconstruction and Development (EBRD).
---
EBRD representatives Paul Jennings and Josh Loud of the Credit Risk Management Department said that the economic reform Serbia has so far conducted has set a firm groundwork for economic development. They focused on creating the prerequisites for the development of small and medium-sized enterprises, uniform regional development and infrastructural projects. They stressed that their visit comes at a moment when Serbia is recovering economically, opining that the situation is promising despite the challenges.

National Assembly Deputy Speaker Prof. Dr Vladimir Marinkovic said that the EBRD representatives' visit provides the parliamentarians with an opportunity to give their contribution to the continued cooperation between Serbia and the organization. He emphasised the efforts the National Assembly has invested into implementing fiscal consolidation measures, reducing the deficit and the country's public debt, as well as attracting foreign investments and creating new jobs in the private sector.

"Serbia's international position is good. Serbia is the pillar of stability in the region and with everything already achieved in the economic arena, our economic growth is guaranteed", said Marinkovic.

He added that the development of small and medium-sized enterprises is the base of economic growth, which is why Serbia supports and subsidizes start up projects, especially in production branches. He said that in the coming years Serbia would be focusing on the development and employment in the IT sector, as well as on small and medium-sized enterprises in the energy sector, especially in the field of renewable energy sources.

Marinkovic also said that the development of infrastructure is one of Serbia's priorities, which will both aid connections in the region and the economically strengthen the country.

"110 km of highway was constructed in Serbia last year. If we continue at the same rate in the coming years, we have the chance to motivate the other parts of the country and enable uniform regional development", concluded Marinkovic.

The participants of the meeting agreed that small and medium-sized enterprises should be provided with banking support and micro-financing, especially women's entrepreneurship.

The meeting was also attended by EBRD Director for Serbia Daniel Berg.


---
---
| M | T | W | T | F | S | S |
| --- | --- | --- | --- | --- | --- | --- |
| 27 | 28 | 29 | 30 | 31 | 1 | 2 |
| 3 | 4 | 5 | 6 | 7 | 8 | 9 |
| 10 | 11 | 12 | 13 | 14 | 15 | 16 |
| 17 | 18 | 19 | 20 | 21 | 22 | 23 |
| 24 | 25 | 26 | 27 | 28 | 29 | 30 |
| 31 | 1 | 2 | 3 | 4 | 5 | 6 |
friday, 7 august
No announcements for selected date