National Assembly of the Republic of Serbia / Activities / Activity details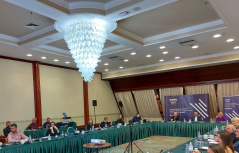 16 March 2022 Participants of the conference
Thursday, 17 March 2022
Human and Minority Rights and Gender Equality Committee Takes Part in 3rd Annual HUGEN Conference Entitled: Contribution of Parliamentary Cooperation to the Promotion of Human Rights and Gender Equality
The Chairman of the Committee on Human and Minority Rights and Gender Equality Dr Muamer Bacevac and Committee members Andrijana Avramov and Prof. Dr Dragoljub Ackovic took part in the 3rd Annual Conference of the Human Rights and Gender Equality Network of Committees in the Western Balkans (HUGEN), held 14 – 16 March 2022 in Skopje, Republic of North Macedonia, organised by the Westminster Foundation for Democracy.
---
The conference focused on the need for parliamentary cooperation with independent institutions to promote human rights, women's political participation during and outside of the electoral process, as well as post-legislative oversight as a mechanism to strengthen control. A meeting was held with representatives of the Austrian Parliament as part of the conference, on the prevention of human trafficking and the prevention of gender-based violence. Representatives of independent institutions also took part in the conference in addition to the members of Western Balkan parliaments.

The representatives of the Committee on Human and Minority Rights and Gender Equality informed the participants of the conference about the legislative activities the Republic of Serbia had undertaken to improve the laws concerning independent state bodies and gender equality. Namely, they pointed out that the National Assembly had passed a new Law on the Ombudsman, as well as amendments to the Law on Prohibition of Discrimination. They went on to say that a new Law on Gender Equality and new election laws were also adopted, and that the Government of the Republic of Serbia had adopted the Strategy for Preventing and Combating Gender-Based Violence against Women and Domestic Violence for the period 2021-2025. They drew special attention to the fact that the National Assembly has a large number of women - 99 out of a total of 250 MPs or 39.76%, highlighting the importance of the work of the Women's Parliamentary Network. MP Andrijana Avramov also spoke about violence against women in politics.

On day 2 of the conference the participants presented best practice examples in using post-legislative oversight as a parliamentary mechanism aimed at strengthening the control function of parliaments.

At the end of the conference, the participants agreed that cooperation between the committees dealing with human and minority rights and gender equality issues is vital because these issues are under constant challenge.


---
---
saturday, 2 july
No announcements for selected date