National Assembly of the Republic of Serbia / Activities / Activity details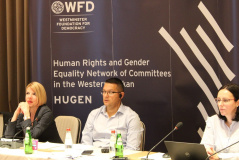 29 July 2021 The Chairman of the Committee on Human and Minority Rights and Gender Equality Dr Muamer Bacevac and Committee member Andrijana Avramov
Thursday, 29 July 2021
Human and Minority Rights and Gender Equality Committee Takes Part in 2nd Annual HUGEN Conference
The Chairman of the Committee on Human and Minority Rights and Gender Equality Dr Muamer Bacevac and Committee member Andrijana Avramov took part in the 2nd Annual Conference of the Human Rights and Gender Equality Network of Committees in the Western Balkans (HUGEN), held 26 – 28 July on Kopaonik and organised by the Westminster Foundation for Democracy.
---
The conference featured panels on the parliaments' response to the COVID-19 pandemic in the Western Balkans, strengthening cooperation between parliaments and ombudsmen, as well as a panel on the importance of introducing gender perspectives into the legislative process. The conference also featured a training course on post-legislative scrutiny.
Committee Chairman Dr Muamer Bacevac addressed the assembly, stressing how important the exchange of opinions, experiences and practices between the parliaments in the region is. He said that every crisis has an impact on deepening social inequalities, including the current pandemic which has left its mark on health, economy, education, social protection, and pointed out that the task of the parliaments and governments is to take timely measures to alleviate inequalities. He stated that the strengthening of the parliament's oversight capacity and cooperation with the ombudsmen must be directed towards preventive action and preclusion of human rights violations in general.
Committee member Andrijana Avramov emphasised the importance of the role of the ombudsman as an independent institution, noting that the cooperation between the parliament and the ombudsman has to constantly improve in order to strengthen human rights. Also, in the panel on gender perspectives, she highlighted the importance of the new legal provisions provided by the Law on Gender Equality for ensuring equal gender representation, both in the public and private sector.
The Human Rights and Gender Equality Network of Committees in the Western Balkans (HUGEN) was established as a non-formal parliamentary network, on a voluntary basis and principles, in October 2019. HUGEN was established with the aim of enhancing existing and developing new mechanisms for regional parliamentary cooperation on human rights and gender issues in the Western Balkan region and for developing more robust parliamentary oversight of human rights and gender laws and policies.
---
---
sunday, 14 august
No announcements for selected date