National Assembly of the Republic of Serbia / Activities / Activity details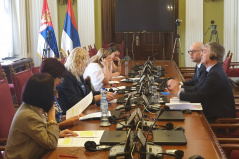 1 July 2019 The members of the Committee on Human and Minority Rights and Gender Equality in meeting with the Head of Council of Europe Office Serbia Tobias Flessenkemper
Monday, 1 July 2019
Human and Minority Rights and Gender Equality Committee Members Meet with Head of Council of Europe Office Serbia Tobias Flessenkemper
Ljiljana Malusic, member of the Committee on Human and Minority Rights and Gender Equality, briefed Flessenkemper on the Committee's scope, saying that it had been very active on promoting human and minority rights, especially those of the most vulnerable categories – the elderly, women, children, Roma and the LGBT community. She mentioned the amendments to the law that resulted in a decrease in domestic violence and violence against women.
---
Malusic said that Serbia, as a country aspiring to join the European Union, is doing its best to harmonize the domestic legislation with international standards, for example, the proposed change to the Anti-Discrimination Law is in currently assembly procedure and the new Gender Equality Law had been put to public debate.
Ljiljana Malusic went on to add that the Committee had organized a public hearing on the Istanbul Convention and a series of sittings outside of the National Assembly seat which enabled the councillors in the local self-governments and representatives of the institutions at the local level to participate in the Committee's work.
Flessenkemper spoke about the cooperation between the Council of Europa and the National Assembly and the national minority rights projects conducted in Serbia. He said that combating discrimination and hate speech is crucial. Speaking of the LGBT community, he said it is important to educate the teaching staff and social workers who are in direct contact with this vulnerable category.
Committee member Olena Papuga spoke about the importance of printing textbooks in minority languages and improving the special voting roll, while Milanka Jevtovic Vukojicic spoke about the advancements made as regards the status of the Roma minority thanks to the Roma Social Inclusion Strategy 2016-2025 and the amendment of the Law on Extrajudicial Procedure that made 25,000 Roma legally visible to the system though records and issuance of IDs. The meeting was also attended by Vesna Ivkovic who said the Committee should establish and even closer cooperation with the Council of Europe to advance these issues even further, and the representatives of the Council of Europe spoke about providing professional expertise on issues in the Committee's scope.
On behalf of Council of Europe Office Serbia, the meeting was also attended by Vedran Ian Kjeldsen.


---
---
tuesday, 4 october
10.00 - press conference of the GREEN – LEFT CLUB, DON'T LET BELGRADE D(R)OWN, WE HAVE TO Parliamentary Group (National Assembly House, 13 Nikola Pasic Square, Central Hall)

11.00 - sitting of the Committee on Education, Science, Technological Development and the Information Society (National Assembly House, 13 Nikola Pasic Square, hall 3)

11.00 - sitting of the Committee on Finance, State Budget and Control of Public Spending (National Assembly House, 13 Nikola Pasic Square, hall 2)

12.00 - press conference of MP Tatjana Manojlovic (National Assembly House, 13 Nikola Pasic Square, Central Hall)

12.15 - press conference of the HOPE – NEW DSS – POKS Parliamentary Group (National Assembly House, 13 Nikola Pasic Square, Central Hall)