National Assembly of the Republic of Serbia / Activities / Activity details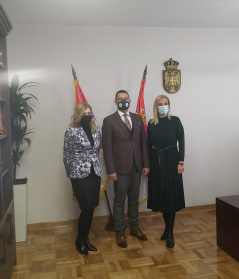 26 January 2021 The Chairman of the Committee on Human and Minority Rights and Gender Equality Dr Muamer Bacevac with Minister of Justice Maja Popovic
Tuesday, 26 January 2021
Human and Minority Rights and Gender Equality Committee Chairman Dr Muamer Bacevac Meets with Minister of Justice Maja Popovic
The Chairman of the Committee on Human and Minority Rights and Gender Equality Dr Muamer Bacevac met with Minister of Justice Maja Popovic on 26 January 2021 in the Ministry of Justice.
---
The officials discussed the state of gender equality in the Ministry, bodies within the Ministry, courts and prosecutor's offices, as well as in terms of notaries public and public enforcement officers.
The Minister of Justice outlined the results achieved in the conduct of the National Action Plan for the implementation of United Nations Security Council Resolution 1325, which led to an increase in the overall representation of women in the security system. The Ministry of Justice was actively involved in its implementation, primarily through the activities of the Department for the Execution of Criminal Sanctions.
Also, data on the application of the Law on Prevention of Domestic Violence from November 2018 to November 2020 was presented, in which period the Ministry analysed data on gender and relation of perpetrator and victim according to which emergency measures were extended. The Minister emphasised the importance of multisector cooperation, as well as the need to monitor the outcomes of procedures in terms of general prevention of violence against women.
The Committee Chairman briefed the Minister on the activities of the Committee as regards the monitoring of the implementation of the Law on Prevention of Domestic Violence and the planned activities within its control function. It was agreed that information accompanied by data on the actions of the competent courts and public prosecutor's offices in accordance with the Law, be submitted to the Committee for information and consideration.
Also, the Committee Chairman informed the Minister about the recommendations of the Parliamentary Assembly of the Council of Europe regarding the role of national parliaments in monitoring the implementation of judgments of the European Court of Human Rights in Strasbourg. In this regard, the participants set up the framework of future cooperation between the Ministry and the Committee regarding information on this issue.
The Committee Chairman also spoke about the state of judicial institutions in Novi Pazar, Sjenica and Tutin, emphasizing the need to increase the number of judges, trainee judges and prosecutors in the judicial institutions in this region. He stressed that it was necessary to set up a Municipal Court in Tutin, which did exist until 2010 when it was unjustifiably closed down.
---
---
friday, 28 january
13.00 - meeting of the Inter-Party Dialogue Control Body (National Assembly House, 13 Nikola Pasic Square, hall 1)

17.00 - National Assembly Speaker Ivica Dacic meets with Inter-Party Dialogue co-facilitators (National Assembly House, 13 Nikola Pasic Square, hall 1)