National Assembly of the Republic of Serbia / Activities / Activity details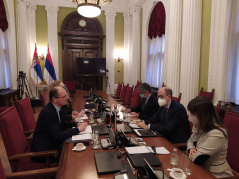 18 January 2021 The Head of the Parliamentary Group of Friendship with Italy Jovan Palalic in a conversation with Italian Ambassador to Serbia Carlo Lo Cascio
Monday, 18 January 2021
Head of the PFG with Italy Meets with Italian Ambassador to Serbia
The Head of the Parliamentary Friendship Group with Italy Jovan Palalic met today at the National Assembly with the Italian Ambassador to Serbia Carlo Lo Cascio to discuss the importance of parliamentary cooperation and its contribution to the overall cooperation between Serbia and Italy.
---
Jovan Palalic stressed that Italy is a true friend to Serbia, thanking it for the clear, resolute and consistent support it provides to Serbia in reaching its strategic goal – membership in the European Union. Palalic added that the two countries' and their peoples' mutual understanding and friendship is also reflected in the solidarity expressed during the outbreak of the corona virus pandemic last year.
Praising political relations, Palalic said that he expected a further development of economic relations, after the crisis is overcome. He added that over 600 Italian companies operate in Serbia and employ a large number of its citizens, which is extremely important for the country, and that the MPs would continue to work on improving the legislative framework needed to further improve the investment conditions and opening of new Italian companies in Serbia.
Speaking of parliamentary cooperation, the PFG Head said that it is important to continue with the regular cooperation and exchange of parliamentary visits, both of friendship groups and working bodies of the Serbian and Italian parliaments, after the crisis caused by the coronavirus pandemic is overcome. Parliamentarians can also play a significant role in strengthening cooperation between different regions and cities in Serbia and Italy, Jovan Palalic concluded.
Italian Ambassador to Serbia Carlo Lo Cascio said that Serbia and Italy had strengthened their friendship during the previous year marked by the coronavirus pandemic. He thanked Serbia for the support and assistance in medical material, to which Italy responded by sending a team of doctors and medical staff to visit Serbia. The Italian ambassador added that two countries exchanged visits of their highest state officials last year. He also pointed out that the trade relations remained at a satisfactory level and added that Italian companies are still interested in doing business in Serbia.
Lo Cascio also stated that Serbia and the Western Balkans do belong in the EU, which is of mutual interest, which is why it is very important for Serbia to continue with the ongoing reforms in order to restart and speed up the negotiation process with EU.
The officials also agreed that cooperation between Serbia and Italy in the fields of culture, security, innovation and digital technology is important and that there is always room for further improvement.
---
---
friday, 28 january
13.00 - meeting of the Inter-Party Dialogue Control Body (National Assembly House, 13 Nikola Pasic Square, hall 1)

17.00 - National Assembly Speaker Ivica Dacic meets with Inter-Party Dialogue co-facilitators (National Assembly House, 13 Nikola Pasic Square, hall 1)