National Assembly of the Republic of Serbia / Activities / Activity details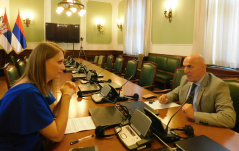 23 July 2019 The Head of the PFG with Cyprus and the Cypriot Charge d'Affaires in Serbia
Tuesday, 23 July 2019
Head of Parliamentary Friendship Group with Cyprus Meets with Cypriot Charge d'Affaires in Serbia
The Head of the Parliamentary Friendship Group with Cyprus Biljana Pantic Pilja met today with the Cypriot Charge d'Affaires in Serbia Stelios Georgiou.
---
Charge d'Affaires Georgiou briefed the Head of the PFG with Cyprus on the latest developments and Turkish provocations in Cyprus' exclusive economic zone. On 8 July, another Turkish platform, in addition to the one sent in May, entered the exclusive economic zone in the territorial sea of the Republic of Cyprus, only 11 km from the east coast. Besides, a Turkish ship is conducting seismological research south of Limassol and they are all followed by a great many Turkish navy vessels.
Charge d'Affaires Georgiou said that this is a clear violation of international law viz. the 1982 UN Convention on the Law of the Sea and the sovereignty of the Republic of Cyprus since one of the ships is inside of its territorial sea. He opined that actions such as these do not contribute to peace or the protection of the rights of Cypriot Turks, and the Cypriot Government says that the benefit of natural resource exploitation in the exclusive economic zone will reap all the citizens of Cyprus, once a final and comprehensive resolution to the Cypriot problem is found.
The Head of the PFG with Cyprus Biljana Pantic Pilja said that Serbia condemns the incursion into the exclusive economic zone and urges for a peaceful resolution of the Cyprus issue. She added that Cyprus is a friendly country that supports Serbia on the path to the EU and in finding a solution to the Kosovo issue, as well as in international organizations. She reminded the guest that a National Assembly delegation had recently visited Cyprus and reaffirmed its support in meeting with the country's leadership. She said that Serbia is following the developments in the exclusive economic zone very carefully, in view of the friendship and support of the people of Cyprus.


---
---
monday, 23 may
No announcements for selected date