National Assembly of the Republic of Serbia / Activities / Activity details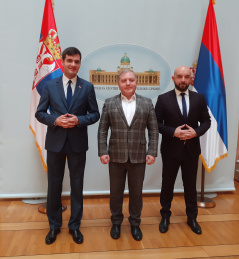 26 April 2021. The Head of the PFG with Ukraine meets with the Chairman of the Ukrainian Parliament's Group on Interparliamentary Relations with the Republic of Serbia
Monday, 26 April 2021
Head of PFG with Ukraine Meets with Chairman of Ukrainian Parliament's Group on Interparliamentary Relations with Serbia
The Head of the Parliamentary Friendship Group with Ukraine Stefan Srbljanovic met today with the Chairman of the Group on Interparliamentary Relations with the Republic of Serbia in the Ukrainian Parliament Oleg Voloshin.
---
Srbljanovic emphasized the traditionally friendly relations between Ukraine and Serbia, with the hope that the two friendship groups would, through parliamentary cooperation, further strengthen the ties between the two nations.
Voloshin said he was impressed by the results of the Serbian Government's measures employed to combat the coronavirus pandemic, emphasizing that few countries can boast of such success. Srbljanovic agreed with that, emphasizing that thanks to Serbian President Aleksandar Vucic, the country has four types of vaccines at its disposal, and ranks second in the world by the number of vaccinated citizens. He went on to add that citizens from countries in the region, as well as many western countries, are being vaccinated in Serbia.
In the course of the meeting, Voloshin informed Srbljanovic about the current political situation between Russia and Ukraine, and the officials agreed that all challenges should be resolved peacefully and through dialogue.
"In many aspects of foreign policy, Serbia and Ukraine share the same views, and the results of your country's smart foreign policy are patently obvious. Your pragmatic approach should be followed, especially towards China", Voloshin said.
The PFG Head thanked Ukraine for its principled position on Serbia's territorial integrity adding that Ukraine can count on the same type of support from Serbia. He also pointed out that our country, whose citizens have experienced sanctions, would never impose them against any country.
In that light, Voloshin pointed out that he had registered a draft decree in the Ukrainian Parliament confirming Ukraine's steadfast support for the territorial integrity of the Republic of Serbia, and that he would insist on its adoption.
In the course of the meeting, the officials also talked about the cooperation between Serbia and the United States, investments in Serbia and the achieved results in terms of infrastructure.
---
---
friday, 1 july
11.00 - the National Assembly Speaker addresses the conference on the Position of Serbia's in the Euro-Atlantic Community (National Assembly Building, 14 Kralja Milana Street, Grand Hall)