National Assembly of the Republic of Serbia / Activities / Activity details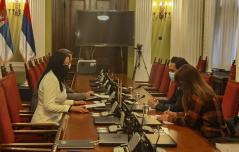 22 March 2021 The Head of the Parliamentary Friendship Group with the United Arab Emirates Jelena Zaric Kovacevic and the Ambassador of the United Arab Emirates H.E. Mubarak Al Dhaheri
Monday, 22 March 2021
Head of PFG with UAE Meets with UAE Ambassador to Serbia
Jelena Zaric Kovacevic, Head of the Parliamentary Friendship Group with the United Arab Emirates, met today at the National Assembly House with the Ambassador of the United Arab Emirates to Serbia H.E. Mubarak Al Dhaheri to discuss the excellent overall bilateral relations and the current global epidemiological situation.
---
At the beginning of the meeting, the Head of the PFG informed the ambassador that the PFG with UAE consists of 71 members, which is a significantly higher number compared to the previous legislature, a clear indicator that the MPs had recognised good cooperation with the United Arab Emirates.
Jelena Zaric Kovacevic expressed satisfaction with the successfully organised visit of President Vucic to the UAE and thanked the country for the medical assistance in the fight against COVID-19. She also spoke about the upcoming joint project - construction of the Sinopharm vaccine factory in Serbia.
The Ambassador of the United Arab Emirates H.E. Mubarak Al Dhaheri congratulated Jelena Zaric Kovacevic on the new legislature and on her appointment as the Head of the PFG with the UAE, highlighting the excellent overall cooperation between the two countries. He especially praised the Government and the entire leadership of the Republic of Serbia for the successfully conducted vaccination and immunisation, adding that Serbia is recognised as the pillar of stability in the region, which is why it was chosen to produce the Sinopharm vaccine.
The officials also discussed the upcoming Zoom online meeting scheduled for 24 March, where the members of both parliaments' friendship groups will have the opportunity to get to know each other, launch a parliamentary dialogue and exchange opinions and experiences on various parliamentary topics. They also discussed the many significant projects that the UAE has implemented as investor in Serbia, especially at the level of local communities.
The Head of the PFG then spoke about the UAE's humanitarian project - adaptation of a school in Niska Banja, and the Ambassador expressed satisfaction at the opening of a textile factory in Raska, which employs over 400 workers.
The Ambassador concluded that though the cooperation between the two countries is at a high level, there is still room to further intensify it. He pointed out that the UAE is ready to invest in Serbia and advocate for a better future and standard of living for the Serbian people.
---
---
monday, 15 august
11.00 - press conference of MP MA Ivan Kostic (National Assembly House, 13 Nikola Pasic Square, Central Hall)