National Assembly of the Republic of Serbia / Activities / Activity details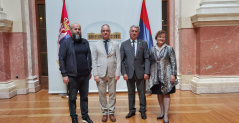 8 June 2021 The members of the PFG with Sweden and the Swedish Ambassador to Serbia
Tuesday, 8 June 2021
Head of PFG with Sweden Meets with Swedish Ambassador to Serbia
The Head and members of the PFG with Sweden met today at the National Assembly House with the Ambassador of the Kingdom of Sweden to the Republic of Serbia H.E. Jan Lundin.
---
The Head of the Parliamentary Friendship Group Milorad Mijatovic said that the bilateral relations are very good and above all friendly, honest and open, as evidenced by the mutual visits of the two countries' high officials.
He mentioned the successful 2018 visit he and the then Serbian Parliament Speaker Maja Gojkovic paid to the Swedish Parliament.
Mijatovic pointed out that there is room for additional improvement of cooperation at the highest level, through the exchange of visits of the parliament speakers, as well as continued the cooperation between the parliamentary committees. He also said how pleased he was by the large number of Swedish investments in Serbia, adding that the country is interested in expanding economic cooperation.
He referred to the goals of sustainable development, in which respect Sweden is among the leading countries in Europe, and expressed interest in Sweden, by exchanging experiences, helping Serbia in successfully achieving the mentioned goals.
Milorad Mijatovic said that EU membership is Serbia's strategic goal, adding that Sweden's experience and support would be invaluable to us on that path. In that regard, he said that, by passing legal acts, the National Assembly harmonises domestic legislation with the EU acquis, and added that at yesterday's session, the MPs adopted the proposed constitutional changes concerning the judiciary, by two-third majority.
He stressed that the ample Serbian diaspora in Sweden also contributes to the understanding and closeness of the two countries.
Lundin agreed that the two countries had an exchange of visits at the highest level, reminding the host of the Swedish Foreign Minister and OSCE Chairman-in-Office Ann Linde's recent visit and her meetings with National Assembly Speaker Ivica Dacic and the members of the informal Women's Parliamentary Network.
The Ambassador said that the good relations between the two countries are also visible in their economic cooperation, given the large number of Swedish companies operating in the Republic of Serbia, and announced new investments that will result in the creation of new jobs. He stressed that Sweden would continue to support Serbia's reforms and that there is ample room for cooperation at the parliamentary level.
As an example of good cooperation, Lundin said that the Embassy of the Kingdom of Sweden in Belgrade is, in fact, their largest embassy in Europe.
MP Muamer Zukorlic, member of the PFG with Sweden, also took part in the meeting. He opined that cooperation can be improved at the levels of cultural and educational exchange, with the Serbian diaspora in the Kingdom representing one such potential. He added that Sweden has a broad understanding of Serbia's views, a cornerstone of good cooperation. Natasa Jovanovic welcomed the opportunity to have this meeting and endorsed all the different types of cooperation suggested.
---
---
monday, 29 november
9.00 - sitting of the Committee on Constitutional and Legislative Issues (National Assembly House, 13 Nikola Pasic Square, hall 2)

11.00 - sitting of the Committee on Constitutional and Legislative Issues (National Assembly House, 13 Nikola Pasic Square, hall 2)