National Assembly of the Republic of Serbia / Activities / Activity details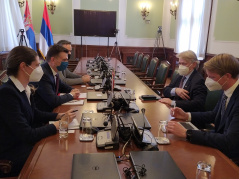 22 April 2021. The Head of the Parliamentary Friendship Group with Norway Milenko Jovanov in meeting with the Ambassador of Norway to Serbia H.E. Jørn Eugen Gjelstad
Thursday, 22 April 2021
Head of PFG with Norway Meets with Norwegian Ambassador to Serbia
The Head of the Parliamentary Friendship Group with Norway Milenko Jovanov met today in the National Assembly with the Norwegian Ambassador to Serbia, H.E. Jørn Eugen Gjelstad to discuss the importance of inter-parliamentary cooperation and the possibilities for improving economic relations and cooperation between the two countries in the field of environmental protection.
---
Saying that the bilateral relations between Serbia and Norway date back more than 100 years, the Head of the PFG with Norway Milenko Jovanov added that, apart from diverging over the status of Kosovo-Metohija, the two countries have no other open issues bilateral relations between Serbia and Norway date back more than 100 years,. Serbia is committed to finding a compromise solution, Jovanov said, drawing attention to the fact that Pristina's unilateral acts do not contribute to reaching said compromise, but rather encourage tensions in the region.
Jovanov pointed out that the 60 strong PFG with Norway proves the MPs' interest in intensive inter-parliamentary cooperation. He went on to say that there is room to improve this cooperation even further, and expressed satisfaction with the successful cooperation of Norwegian and Serbian parliamentarians in international parliamentary organizations, especially the NATO PA, OSCE PA and PACE.
Jovanov also pointed out that there is interest in developing deeper economic relations, having in mind that the trade exchange between Serbia and Norway amounts to 68 million EUE, 18 million EUR of which are Serbia's exports. Also, it would be very important to develop deeper cooperation in the field of environmental protection, which is a very important topic for both the Serbian National Assembly and Government, said Milenko Jovanov.
He thanked Norway for its 5 million EUR worth of aid in respirators and medical equipment, to assist Serbia's fight against the coronavirus pandemic.
Norwegian Ambassador Jørn Eugen Gjelstad agreed with his host about the traditionally good relations between the two countries, emphasizing the importance of improving inter-parliamentary cooperation through direct contacts between the parliamentarians. Exchanging information about the work of the two parliaments and their working bodies would be of mutual interest and benefit, the Ambassador concluded. He expressed confidence that the conditions would soon be met for on exchange of visits between the members of the two parliaments' friendship groups.
In the course of the conversation, Jovanov and Gjelstad discussed some specific forms of economic cooperation, as well as cooperation in the field of environmental protection and renewable energy sources. The construction of a wind farm on the territory of AP Vojvodina is one possible future Norwegian investment. The officials also agreed possible cooperation between the universities in Belgrade and Oslo, on ecological issues. They also discussed the need to resolve the post-pandemic crisis and find ways to support small and medium-sized enterprises, which are most affected by the pandemic.
Ambassador Gjelstad also pointed out that Norwegian companies are interested in investing and starting businesses in Serbia, and that it is important to constantly improve the business environment.
---
---
saturday, 2 july
No announcements for selected date