National Assembly of the Republic of Serbia / Activities / Activity details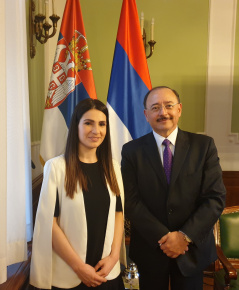 4 March 2020 The Head of the PFG with Mexico Ana Karadzic with Mexican Ambassador to Serbia Marco o García Blanco
Wednesday, 4 March 2020
Head of PFG with Mexico Meets with Mexican Ambassador to Serbia
The Head of the Parliamentary Friendship Group with Mexico Ana Karadzic met today with Mexican Ambassador to Serbia Marco García Blanco to discuss the results achieved in the fields of culture, sports and trade, as well as the strong bilateral relations.
---
The Ambassador said that Mexico and Serbia have a very mature cooperation of mutual trust, stressing that Mexico stands by its principled attitude toward Serbia. He said that political dialogue is at a very high level as evidenced by the presence of a high delegation at the IPU Assembly, comprised of the Speaker of the Mexican Chamber of Deputies, Prime Minister and Minister of Foreign Affairs who had a bilateral meeting with National Assembly Speaker Maja Gojkovic. In the last three years, the two had countries signed four agreements and at the diplomatic level, setting a date for the 15th meeting for political consultations is in the works.
The Head of PFG with Mexico Ana Karadzic thanked the Ambassador for his commitment to strengthening the ties between the two countries across the board from trade which in 2019 went up by 47% compared with 2018, Mexican companies opening up and employing Serbian workers and cultural events aimed at bringing the two nations closer together. Karadzic praised the excellent cooperation with the President of the Inter-Parliamentary Union Gabriela Cuevas Barron who played a significant role in the organization and promotion of the 141st IPU Assembly in Belgrade.
Finally, the Ambassador said that the Mexican Parliament had set up a PFG with Serbia headed by Mirtha Villalvazo, and Karadzic said she was sure that a PFG with Mexico would be set up soon after the parliamentary elections in Serbia and the bilateral cooperation would continue.


---
---
saturday, 25 june
No announcements for selected date