National Assembly of the Republic of Serbia / Activities / Activity details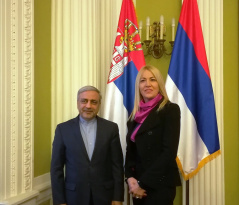 30 December 2019 The Head of the PFG with Iran and the Ambassador of the Islamic Republic of Iran to Serbia
Monday, 30 December 2019
Head of PFG with Iran Receives Iranian Ambassador to Serbia in Farewell Visit
The Head of the PFG with Iran Jasmina Karanac received the Ambassador of the Islamic Republic of Iran to Serbia H.E. Hossein Molla Abdollahi in farewell visit today.
---
Jasmina Karanac said that the two countries enjoy excellent cooperation and relations across the board adding that she was especially pleased by the intensive parliamentary cooperation. Karanac praised the recent exchange of highest-level parliamentary delegations and visits between PFG members. She also thanked Iran for not recognizing the unilaterally declared independence of so-called Kosovo stating that Serbia fully supports the peaceful resolution of the current problems in Iran through dialogue.
Iranian Ambassador Abdollahi praised the recent progress of overall bilateral cooperation at the parliamentary level, as well as in the spheres of politics, economy, trade, defence and culture. He added that Serbia and Iran support one another's positions, on the international scene.
The officials agreed that it would be mutually beneficial to encourage cooperation between the two parliaments' working bodies, which the Head of the PFG with Iran pledged to champion personally.

---
---
monday, 16 may
No announcements for selected date