National Assembly of the Republic of Serbia / Activities / Activity details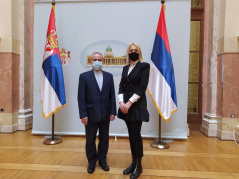 12 January 2021 The Head of the Parliamentary Friendship Group with Iran Jasmina Karanac with the Ambassador of the Islamic Republic of Iran to the Republic of Serbia Rashid Hassan Pour Baei
Tuesday, 12 January 2021
Head of PFG with Iran Meets with Iranian Ambassador
The Head of the Parliamentary Friendship Group with Iran Jasmina Karanac met today at the National Assembly House with the Ambassador of the Islamic Republic of Iran to the Republic of Serbia Rashid Hassan Pour Baei to discuss furthering parliamentary cooperation and possible advancement of economic relations between Serbia and Iran.
---
Jasmina Karanac said that our two countries enjoy traditionally good relations, since their establishment in 1937, reflected in mutual respect for sovereignty and territorial integrity, as well as mutual support in international organizations. Serbia is grateful to Iran for its firm position, despite political pressures, not to recognize the unilaterally declared independence of the so-called Kosovo, she said.
Serbia and Iran have developed parliamentary relations, as evidenced by the existence of parliamentary friendship groups in both parliaments, as well as the exchange of visits at the highest parliamentary level in the previous period, Karanac pointed out.
In a conversation with the Iranian Ambassador, she expressed hope that both countries would soon manage to overcome the corona virus pandemic and continue their successful political cooperation, also hoping that their economic relations would improve as they do not follow the well-developed political relations due to the non-operational payment transactions between the two countries.
Iranian Ambassador Rashid Hassan Pour Baei expressed satisfaction with the developed parliamentary cooperation between the two countries, emphasizing the importance of the parliament, as a symbol of democracy and rule of the people.
He stressed that Iran attaches special importance to relations with Serbia, the central state of the Western Balkans region, adding that there is potential, as well as interest on both sides, to improve economic cooperation.
In the course of the meeting, the PGP Head and the Iranian Ambassador expressed the expectation that the new United States administration would return to the Nuclear Deal and lift the unfairly imposed sanctions on Iran which would improve Iran's economic relations and cooperation, not only with Serbia but with the rest of the world.
The officials emphasized the importance of cultural cooperation between Serbia and Iran, as well as cooperation in the field of education, also opining that there is a significant potential for improving relations in agriculture and the energy and petrochemical sectors.
---
Photo gallery
---
---
thursday, 11 august
No announcements for selected date