National Assembly of the Republic of Serbia / Activities / Activity details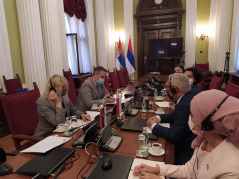 3 June 2021 Head of PFG with Indonesia Ljiljana Malusic in meeting with Indonesian Ambassador to Serbia Mochammad Yudha
Thursday, 10 June 2021
Head of PFG with Indonesia Meets with Indonesian Ambassador to Serbia
The Head of the Parliamentary Friendship Group with Indonesia Ljiljana Malusic met today at the National Assembly House with Indonesian Ambassador to Serbia H.E. Mochammad Yudha.
---
The officials expressed hope that, as the pandemic situation improves, Serbia and Indonesia would soon be able to exchange visits of parliamentary delegations and renew the Memorandum of Understanding between the two parliaments, setting the groundwork for the further improvement of bilateral cooperation between the two countries. Malusic and Yudha agreed that Serbia has achieved great success in the fight against the coronavirus with the mass immunisation of its citizens and openness to vaccination of people from the countries in the region.
Ambassador Yudha informed Ljiljana Malusic about the statement of the Parliament of Indonesia regarding the situation in Palestine. Malusic thanked the Ambassador pointing out that Serbia is closely following the events and sees the complexity and seriousness of the situation. She added that the conflict between Palestine and Israel is not within the scope of the Parliamentary Friendship Group with Indonesia, rather it falls within the purview of the Ministry of Foreign Affairs of the Republic of Serbia, however she stressed that Serbia always supports a peaceful political solution reached by agreement of the conflicting parties.
The officials also discussed the possibilities to get better acquainted with Serbia and Indonesia's tourist potentials.
---
---
monday, 27 june
No announcements for selected date