National Assembly of the Republic of Serbia / Activities / Activity details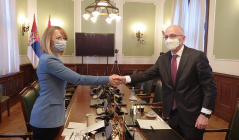 29 March 2021 The Head of the Parliamentary Group of Friendship with Germany Vesna Markovic in meeting with German Ambassador Thomas Schieb
Monday, 29 March 2021
Head of PFG with Germany Meets with German Ambassador to Serbia
The Head of the Parliamentary Group of Friendship with Germany Vesna Markovic met today at the National Assembly with German Ambassador to Serbia Thomas Schieb to discuss the reforms and European integration prospects of both Serbia and the Western Balkan region.
---
Vesna Markovic stressed that EU membership remains Serbia's priority and most of the National Assembly's activities are directed towards that goal and the harmonisation of domestic legislation with the acquis communautaire. Markovic said she regretted that during the German presidency last year no new negotiation chapters were opened, but added that Serbia is aware that the EU itself is facing internal problems and challenges. The EU should maintain its unity and stability, because it is also important for the stability of the Western Balkan region, Markovic said, emphasising Germany's key position within the EU.
Markovic pointed out that the Serbian MPs show great interest in cooperation with their Bundestag counterparts, adding that the PGP with Germany boasts no less than 84 members. We are aware of the Bundestag's importance in the decision-making concerning the opening of new negotiating clusters and admission of new members into the EU, she pointed out.
In the course of the meeting with the German Ambassador, Vesna Markovic stressed that Serbia remains committed to the stability of the region and regional cooperation, dialogue with Pristina and inter-party dialogue facilitated by the EU.
The Ambassador of the Federal Republic of Germany Thomas Schieb agreed that German-Serbian relations are good and intensive at all levels. He regretted that the epidemiological situation prevents regular meetings between the parliamentarians, but added that virtual meetings and exchange of opinions prove useful in these circumstances.
EU enlargement remains a priority for Germany, Schieb said, adding that, regardless of the outcome of the parliamentary elections in Germany, scheduled for September, Germany will continue to support Serbia's European integration and the EU enlargement policy. Schieb said that reforms concerning the rule of law and the continuation of the Belgrade-Pristina dialogue are key for Serbia's European integration, adding that Germany expects progress in those areas and the opening of new negotiating clusters soon. Germany also advocates speeding up the process of European integration of the other Western Balkan countries, said Ambassador Thomas Schieb.
The officials agreed about the importance of economic cooperation between the two countries and expressed satisfaction that it is following an upward trajectory, despite the unfavourable economic circumstances caused by the corona pandemic.
The meeting also touched on the recently adopted Code of Conduct for MPs, the early parliamentary elections facing Serbia and the possible outcomes of EU-mediated inter-party dialogue.
---
---
monday, 15 august
11.00 - press conference of MP MA Ivan Kostic (National Assembly House, 13 Nikola Pasic Square, Central Hall)