National Assembly of the Republic of Serbia / Activities / Activity details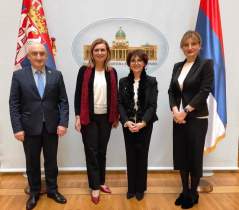 26 November 2021 The Head of the PFG with Georgia with the delegation of Georgian Parliament's Culture Committee
Friday, 26 November 2021
Head of PFG with Georgia Meets with Chairperson of Georgian Parliament's Culture Committee
The Head of the Parliamentary Friendship Group with Georgia Dubravka Filipovski met, at the National Assembly House, with the Chairperson of the Georgian Parliament's Culture Committee Eliso Bolkvadze.
---
Filipovski emphasised the MPs' growing interest in cooperation with Georgia, which, she said, is not surprising considering the closeness of the two nations in cultural and religious terms.

Speaking about the quality of diplomatic cooperation between the two countries, Filipovski stressed that special attention should be paid to the improvement primarily of parliamentary cooperation as one of the most important types of communication and connection between MPs. She added that the governments and parliaments of the two countries should work together on intensifying economic, as well as agricultural, construction, tourist, IT, education and cultural cooperation.

Filipovski went on to speak about the political situation in Serbia, stressing that the country is firmly committed to European integration, but not to Euro-Atlantic integration, which does not exclude cooperation with NATO. She took the opportunity to thank Georgia for its principled position of unequivocal support for Serbia's territorial integrity.

Dubravka Filipovski expressed satisfaction with the organisation of the Ethno Festival, which this year focuses on Georgia, a country with which the Republic of Serbia has been developing diplomatic relations for more than 25 years.

The Chairperson of the Georgian Parliament's Culture Committee Eliso Bolkvadze expressed great satisfaction with the future parliamentary cooperation, for which, she said, she was highly motivated. She agreed that Serbia and Georgia have many points of contact and a friendly relationship that should be nurtured. She stressed that the coronavirus pandemic has caused a lot of damage all around, perhaps the most in the cultural sector, which is makes the organisation of the Ethno Festival all the more special value and important.

The officials agreed that cultural diplomacy is one of the most important ways of connecting countries, so they exchanged ideas on possibly organising Georgia Day in Serbia and Serbia Day in Georgia, as well as various cultural events that would further unite the two nations.



---
---
sunday, 23 january
No announcements for selected date