National Assembly of the Republic of Serbia / Activities / Activity details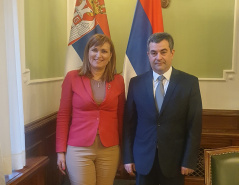 14 November 2019 The Head of the PFG with Georgia Dubravka Filipovski and Georgian Ambassador Ioseb Nanobashvili
Thursday, 14 November 2019
Head of PFG with Georgia Dubravka Filipovski Receives Georgian Ambassador Ioseb Nanobashvili in Farewell Visit
Dubravka Filipovski, Head of the PFG with Georgia, received Georgian Ambassador Ioseb Nanobashvili in farewell visit today at the National Assembly House, to discuss the traditionally good relations between the two countries, considerably intensified during the Ambassador's mandate.
---
Filipovski said that the two parliaments' Partnership Agreement had helped raise their cooperation to a higher institutional level, one that enables them to strengthening cooperation in terms of Euro-integration as both countries share the common goal of EU accession. She added that the abolition of the visa regime would help bring the two peoples closer together.
The Head of the PFG with Georgia said that the two countries have similar political beliefs, both respect one another's territorial integrity and with it international law. The Ambassador stressed that Georgia remains consistent in its stance on the unilaterally declared independence of so-called Kosovo.
The Ambassador thanked MP Filipovski for her engagement, stressing that it was thanks to her efforts, as well as those of the Foreign Affairs Committee Chairman and National Assembly Speaker, that the cooperation between the two parliaments has reached its admirable levels.
Ioseb Nanobashvili said he hoped that next year's 25th anniversary of diplomatic relations between Serbia and Georgia would be marked by a series of events and celebrations, while Filipovski said that she would, in cooperation with the National Assembly Speaker, work on making sure the anniversary is celebrated, at the highest level, in Belgrade, too.
The officials opined that there is ample room to advance economic cooperation and trade, and assured one another that the comprehensive bilateral and parliamentary cooperation will continue to develop.


---
---
thursday, 18 august
No announcements for selected date