National Assembly of the Republic of Serbia / Activities / Activity details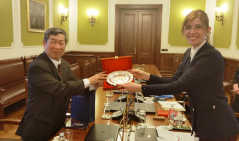 13 April 2021 The Head of the Parliamentary Group of Friendship with Cambodia and the Ambassador of the Kingdom of Cambodia to the Republic of Serbia
Tuesday, 13 April 2021
Head of PFG with Cambodia Meets with Cambodian Ambassador to Serbia
The Head of the Parliamentary Group of Friendship with Cambodia Jelena Mihailovic, met today, at the National Assembly House, with the Ambassador of the Kingdom of Cambodia to the Republic of Serbia, H.E. Tan Vutha.
---
The Head of the Parliamentary Friendship Group with Cambodia welcomed the Ambassador to the National Assembly House and at the very beginning of the meeting took the opportunity to congratulate tomorrow's celebration of the Khmer New Year. Mihailovic said that the diplomatic relations between the two countries date back to 1956 and the founding of the Non-Aligned Movement, and expressed satisfaction at the rise in bilateral relations with the reopening of the Embassy of the Kingdom of Cambodia in Serbia.
Mihailovic said that she would organise a meeting with the PFG with Cambodia so that its 10 members can meet and talk with the Ambassador about closer parliamentary cooperation. She went on to mention the visit of the Vice President of the National Assembly of Cambodia Khuon Sodary and delegation to the 2019 Inter-Parliamentary Union in Belgrade, as one of the most important visits in the past few decades, and added that the evident geographical distance should not be an obstacle to bilateral relations. She said that there is certainly room for cooperation in the field of economy and tourism, as well as culture, sports and education. "Cultural diplomacy is every country's soft power which can strengthen the cooperation between countries", stressed the MP. She also thanked Cambodia for its principled position concerning Serbia's territorial integrity and sovereignty, adding that Pristina's unilateral moves do not contribute to dialogue and resolution of the problem.
H.E. Tan Vutha thanked the PFG Head for the invitation and conveyed the greetings of the Cambodian Foreign Minister to National Assembly Speaker Ivica Dacic. The Ambassador said that there had been a period of stagnation and neglect in Cambodia's diplomatic relations with other countries due to its internal issues, but the situation would change with the reopening of the consular offices of the Kingdom of Cambodia, alluding to the embassy in Serbia. He said that, speaking of economic and bilateral relations between the two countries, agreements on investment protection and agreements concerning tourism do exist, but have not been ratified yet due to the global epidemiological situation.
Mihailovic reminded the guest that there are several signed agreements between Serbia and Cambodia, such as the 1959 Agreement on Economic and Technical Cooperation and 1961 Agreement on Cooperation in the Field of Culture and Science, which should definitely be updated since both countries have changed and advanced since then.
The officials also discussed cooperation in the field of education and student exchange and concluded that the Ministry of Education, Science and Technological Development project "World in Serbia" can contribute to this type of cooperation.
---
---
friday, 1 july
11.00 - the National Assembly Speaker addresses the conference on the Position of Serbia's in the Euro-Atlantic Community (National Assembly Building, 14 Kralja Milana Street, Grand Hall)