National Assembly of the Republic of Serbia / Activities / Activity details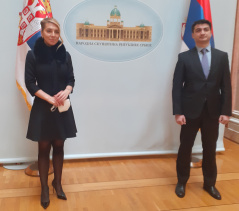 The officials spoke about the traditionally good relations between the two countries and exchanged expressions of gratitude for the mutual support in the most important political issues. The meeting focused on organizing reciprocal visits of the members
Tuesday, 22 December 2020
Head of PFG with Azerbaijan Meets with Azerbaijani Embassy Chargé d'Affaires
The Head of the Parliamentary Group of Friendship with Azerbaijan Katarina Rakic, met today at the National Assembly House with the Charge d'Affaires of the Embassy of Azerbaijan in the Republic of Serbia, Elnur Guliyev.
---
The officials spoke about the traditionally good relations between the two countries and exchanged expressions of gratitude for the mutual support in the most important political issues.
The meeting focused on organizing reciprocal visits of the members of the two parliaments' friendship groups, with the hope that the epidemiological situation would allow it to be realized at the beginning of next year.
---
---
monday, 2 october
10.40 - the National Assembly Speaker's address at the event "Joy of Europe" (National Assembly House, 13 Nikola Pasic Square, Central Hall)

12.00 - continuation of the sitting of the Committee on the Economy, Regional Development, Trade, Tourism and Energy (National Assembly House, 13 Nikola Pasic Square, hall 2)

14.15 - the National Assembly Speaker meets with a delegation of rapporteurs of the Parliamentary Assembly of the Council of Europe Monitoring Committee (National Assembly House, 13 Nikola Pasic Square, hall 1)

16.00 - the heads of the parliamentary groups meet with the delegation of rapporteurs of the Parliamentary Assembly of the Council of Europe Monitoring Committee (National Assembly Building, 14 Kralja Milana Street, Blue Salon)

17.45 - the members of the Committee on Constitutional and Legislative Issues meet with the delegation of rapporteurs of the Parliamentary Assembly of the Council of Europe Monitoring Committee (National Assembly Building, 14 Kralja Milana Street, Blue Salon)