National Assembly of the Republic of Serbia / Activities / Activity details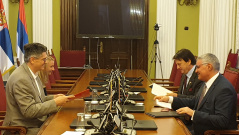 5 September 2019 The Head of the PFG with Armenia Aleksandar Cotric in meeting with the newly-appointed non-resident Ambassador of the Republic of Armenia H.E. Ashot Hovakimyan
Thursday, 5 September 2019
Head of PFG with Armenia Meets with Newly-Appointed Armenian Ambassador
The Head of the PFG with Armenia Aleksandar Cotric welcomed the newly-appointed non-resident Ambassador of the Republic of Armenia stationed in Prague H.E. Ashot Hovakimyan.
---
Informing the Ambassador that the National Assembly's PFG with Armenia boasts 19 members, Cotric said he hoped an exchange of experiences between parliamentarians would advance interparliamentary cooperation across the board.
Cotric took the opportunity to inform the Ambassador that he had visited Armenia in 2016, along with the National Assembly Speaker, at the invitation of the Armenian President, as well as in 2015 when Armenia commemorated the centenary of the genocide against its people.
Cotric said that there is room to advance cooperation, especially in the field of culture, adding that it would be good if the two countries' took joint stands in international parliamentary organizations.
He thanked the Republic of Armenia for its principled stance on Serbia's territorial integrity and briefed the Ambassador on the situation in Kosovo-Metohija.
The Armenian Ambassador agreed with Cotric that cooperation via parliamentary friendship groups is vital for the advancement of parliamentary cooperation. Liberalization of the visa regime is very important for both nations, as is the opening of a Serbian embassy in Yerevan by the end of the year. The Ambassador said that the around 700-strong Armenian community in Serbia is continuing the tradition of the organizations that have advanced the friendly relations with the two nations in the past three decades. The officials concluded that the community is a bridge of cooperation between the two countries' institutions that expands friendship and multiculturalism.


---
---
monday, 23 may
No announcements for selected date