National Assembly of the Republic of Serbia / Activities / Activity details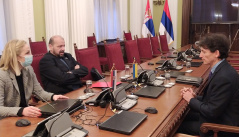 7 December 2021 The Head of the standing delegation to the NATO Parliamentary Assembly and the Ukrainian Ambassador to Serbia
Tuesday, 7 December 2021
Head of National Assembly Standing Delegation to NATO PA Meets with Ukrainian Ambassador to Serbia
The Head of the National Assembly's standing delegation to the NATO Parliamentary Assembly Dragan Sormaz met today with Ukrainian Ambassador to Serbia Oleksandr Aleksandrovych to discuss the current situation in Ukraine and the cooperation of the two parliaments' delegations in the NATO PA.
---
Dragan Sormaz stressed that Serbia supports Ukraine's sovereignty and territorial integrity of, just as Ukraine does Serbia's, which Serbia is grateful for. Sormaz went on to say that Serbia is committed to the peaceful resolution of all conflicts and finding a sustainable compromise solution.
Ambassador Aleksandrovych informed his host about the current situation in Ukraine and the conflict with Russia.
The officials also discussed the importance of cooperation between the Ukrainian and Serbian delegations in the NATO PA, as well as the prospects of Ukraine's membership in NATO.
The meeting was also attended by Prof. Dr Zoran Dragisic, member of the delegation to NATO PA.
---
---
thursday, 11 august
No announcements for selected date