National Assembly of the Republic of Serbia / Activities / Activity details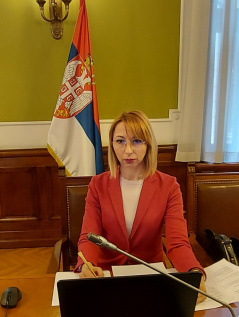 5 March 2021 The Head of the National Assembly standing delegation to the OSCE Parliamentary Assembly Vesna Markovic
Friday, 5 March 2021
Head of National Assembly Delegation to OSCE Parliamentary Assembly Takes Part in Web Conference Organised by UK Parliament
The Head of the standing delegation of the National Assembly of the Republic of Serbia to the OSCE Parliamentary Assembly Vesna Markovic took part in the web conference entitled "Refugees and Migrants: Humanitarian emergencies, voluntary resettlement and assisted voluntary return".
---
The web conference was organised by the UK Parliament's House of Lords and was moderated by Earl of Dundee and Lord Dubs, members of the House of Lords.
The first panel, on humanitarian emergencies and refugees, was addressed by Rein Paulsen, Director of Coordination Division at the United Nations Office for the Coordination of Humanitarian Affairs, and Laura Lungarotti, Chief of Mission and Sub-Regional Coordinator for the Western Balkans, International Organisation for Migration.
After the speech of the panellists, MP Vesna Markovic addressed the participants saying that Serbia is a transit country for migrants, irregular migrants and refugees whose ultimate goal is to reach Western European countries. Serbia has opened temporary reception centres to provide the migrants with assistance in accommodation, food and medical care. Many remain in the accommodation for months as they are unable to cross the border toward one of our neighbouring countries, and a very small number of migrants seek asylum in Serbia.
Vesna Markovic drew attention to the problem, present only in Serbia, which is child protection, especially that of children without parental care whose psychophysical condition requires additional medical assistance. According to Vesna Markovic, this issue requires solidarity as well as a common strategy from all the European countries.
The panellists in the second panel were Stephan Mayer, State Secretary at the German Federal Ministry of the Interior, and Hedy Fry, Head of the Canadian Delegation to the OSCE PA.
The third panel focused on assisted voluntary return of migrants and the panellists were Gianluca Rocco, Chief of Mission and Regional Response Coordinator of the International Organisation for Migration, and Margareta Cederfelt, Chair of the PACE Committee on Migration, Refugees and Displaced Persons and Head of the Swiss Delegation to PACE.
---
---
wednesday, 8 december
11.00 - sitting of the Committee on the Economy, Regional Development, Trade, Tourism and Energy (National Assembly House, 13 Nikola Pasic Square, hall 2)