National Assembly of the Republic of Serbia / Activities / Activity details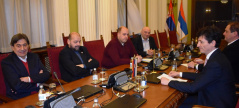 10 February 2022 The participants of the meeting
Thursday, 10 February 2022
Head of National Assembly Delegation to NATO PA and MPs Meet with Ukrainian Ambassador to Serbia
The Head of the National Assembly delegation to the NATO Parliamentary Assembly Dragan Sormaz and MPs Milan Bandjur, Srbislav Filipovic, Prof. Dr Zoran Dragisic and Prof. Dr Ljubisa Stojmirovic met today at the National Assembly House with departing Ukrainian Ambassador to Serbia H.E. Oleksandr Aleksandrovych.
---
Highlighting the National Assembly's successful cooperation with Ambassador Aleksandrovych, Dragan Sormaz expressed the expectation that it would continue with the new Ukrainian ambassador. He showed interest in the current political situation in Ukraine, stating that Serbia is committed to a peaceful solution to the conflict between Ukraine and Russia, respecting international law.
Ambassador Oleksandr Aleksandrovych conveyed Ukraine's official positions on the current situation and the conflict with Russia, pointing out the deeper causes of the current crisis.
The officials agreed that it is important to find a way to overcome the political crisis peacefully and come up with a sustainable solution.
In the course of the conversation, the MPs also pointed out that Serbia supports Ukraine's territorial integrity and sovereignty and thanked Ukraine for the same support to Serbia.
---
---
saturday, 2 july
No announcements for selected date