National Assembly of the Republic of Serbia / Activities / Activity details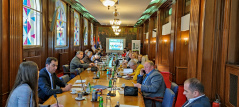 15 November 2021 The participants of the meeting
Tuesday, 16 November 2021
Green Parliamentary Group Has Meeting on Draft Law Amending and Modifying Waste Management Law
On Monday, 15 November 2021, the informal Green Parliamentary Group had a meeting on the Draft Law amending and modifying Waste Management Law, which should soon find itself in parliamentary procedure.
---
Igor Jezdimirovic, representative of the Environmental Protection Engineers, presented the Draft Law stressing that improper waste management and the resulting pollution have had a dire impact on the health of the people of Serbia. In the course of the discussion, Green Parliamentary Group member, MP Vesna Ivkovic, added that the biggest waste management problem are the lacking administrative and financial capacities at the local level.
The thematic meeting was attended by: Slavisa Bulatovic, Nenad Mitrovic, Vladimir Grahovac, Zoran Bojanic, Nenad Krstic, Olja Petrovic, Bosiljka Srdic, Vesna Ivkovic, Mladen Boskovic, Adrijana Pupovac, Vesna Krisanov, Dubravka Filipovski, Goran Kovacevic, Prof. Dr Ljubisa Stojmirovic, Natasa Jovanovic, Bratimir Vasiljevic, Milija Miletic, Bojan Torbica, Branimir Jovanovic, Samira Cosovic, Jasmina Karanac and Zarko Bogatinovic.
---
---
friday, 1 july
11.00 - the National Assembly Speaker addresses the conference on the Position of Serbia's in the Euro-Atlantic Community (National Assembly Building, 14 Kralja Milana Street, Grand Hall)