National Assembly of the Republic of Serbia / Activities / Activity details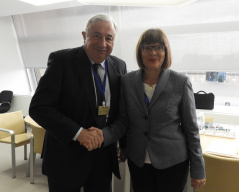 24 October 2019 National Assembly Speaker Maja Gojkovic with the President of the French Senate Gerard Larcher
Thursday, 24 October 2019
Gojkovic in Strasbourg with French Senate President Gerard Larcher
The Speaker of the National Assembly of the Republic of Serbia Maja Gojkovic taking part in the Conference of Presidents of Parliament, with the theme "Our Common European Home: the next 70 years", in Strasbourg, marking the 70th anniversary of the Council of Europe, met today with the President of the French Senate Gerard Larcher.
---
Recalling the traditional friendship, history and alliance in both world wars, Gojkovic opined that the relations between Serbia and France are continuing to develop and deepen, especially with French President Emmanuel Macron's visit to Serbia in the year marking the 180th anniversary of diplomatic relations.
Senate President Gerard Larcher agreed that French President Macron's visit to Serbia reaffirmed the traditional relationship between Serbia and France and emphasized the importance of overall cooperation.
Larcher accepted the invitation to Serbia, opining that it would be an excellent opportunity to strengthen interparliamentary cooperation, discuss Serbia's on-going Euro-integration and other pressing matters.
Gojkovic was very happy to hear about the French Senate President's coming visit to Serbia stressing that it would provide a major opportunity to deepen cooperation, especially in view of the fact that there have been no visits at the level of parliament speakers since 1985.
Gojkovic and Larcher also spoke about Serbia and the region's Euro-integration with Gojkovic stressing that Serbia remains firm in its strategic commitment to EU accession and is hard at work on harmonization with European regulations and reaching EU standards because Serbia shares the same values.
Gojkovic briefed Larcher on the situation in Kosovo-Metohija, recalling Pristina's unilateral moves and the fact that the 100% customs tariffs on goods from central Serbia and Bosnia and |Herzegovina are still in place meaning that Pristina is obviously not ready for dialogue and taking a constructive stance.
Gojkovic also informed Larcher about the measures employed after the European Commission's Progress Report to advance the work of the National Assembly and the readiness to improve the conditions for the coming elections through the inter-party dialogue mediated by the European Parliament.
Gojkovic and Larcher also spoke about the importance of economic cooperation and praised the fact that 100 French companies are currently operating in Serbia, with Gojkovic emphasizing the importance of the cooperation with the French company that took over the management of Belgrade airport Nikola Tesla.


---
---
tuesday, 18 january
14.00 - the National Assembly Speaker meets with OSCE Parliamentary Assembly Secretary General (National Assembly House, 13 Nikola Pasic Square, diplomatic salon of Prince Pavle)