National Assembly of the Republic of Serbia / Activities / Activity details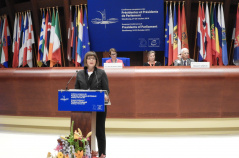 25 October 2019 National Assembly Speaker Maja Gojkovic at the European Conference of Presidents of Parliament
Friday, 25 October 2019
Gojkovic in Strasbourg Speaks at Debate on "Women in Politics and in the Public Discourse"
On day two of the European Conference of Presidents of Parliament in Strasbourg, the Speaker of the National Assembly of the Republic of Serbia Maja Gojkovic took part in debate on "Women in politics and in the public discourse".
---
"As Presidents of Parliament we have to send a strong and clear message that without women and our potential, knowledge and creativity there can be no better future in any segment of any one society or the entire continent of Europe. At the same time I deeply believe that we women in politics have to work on developing solidarity to be a better role model to the women who elected us" said Gojkovic.
Gojkovic opined it is good that an important segment of the European Conference of Presidents of Parliament is dedicated to gender equality and hate speech towards women in politics. The Serbian Assembly Speaker said that when speaking about gender equality we focus on the important issues of combating violence against women, economic independence, political representation, but hate speech is often neglected which makes the Council of Europe's Not In My Parliament campaign particularly important for raising awareness in the parliaments on the European continent on how important it is to focus more on the hate speech women politicians have to contend with.
The Serbian Assembly today has 94 women parliamentarians, which is 37.6%, with women heading a considerable number of working bodies and parliamentary delegations.
"That makes me especially glad because when I entered politics in the early 1990s I was one of 10 women in the parliament", said Gojkovic, adding that she was also the first woman Mayor of Novi Sad elected in direct elections.
Speaking of the obstacles and challenges facing women politicians and parliamentarians, Gojkovic said that as the National Assembly Speaker she too had to face some on them, primarily prejudice against women in politics and the fact that she was frequently the object of misogynous comments and intolerable insults. Gojkovic said that like many other women in the public eye, she had to face up to the fact that the media treat her differently than men in politics, focusing mainly on her physical appearance and clothes, rather than her work and results.
"However, as a woman politician, in addition to my party's support, I cherish the support of regular women. It gives me the strength to continue in this line of work. That is important because we are their voice in politics, we are the ones that should lead by example and show that there is no backing down no matter how difficult the situation, because that is the only way we can work together to build a better society where we will all be equals", said Gojkovic.
Gojkovic was happy to report that Serbia has made considerable progress and toppled many taboos, resulting in a the higher representation of women, who today hold a great many important, leading posts in the state, and in the enhanced visibility and social sensitivity for women's problems. Today in Serbia women head the Government, Assembly, National Bank of Serbia, Constitutional Court, Republic Public Prosecutor's Office and War Crimes Prosecutor's Office and hold many other responsible positions.
"But we should not stop there. We are about to pass a new, more modern gender equality law", said Gojkovic adding that she sees the new gender equality law as an opportunity to go a step further in improving the position of women and preventing discriminations in a number of areas, including the media which should not incite gender discrimination, prejudice and stereotypes.
Besides women in politics, the participants of the European Conference of Presidents of Parliament in Strasbourg marking the 70th anniversary of the Council of Europe, over 40 heads of parliament and their deputies, as well as heads of international parliamentary organizations, also debated the themes of "Our Common European Home: the next 70 years" and "Implementing the UN 2030 Agenda and its Sustainable Development Goals: contribution by Parliaments".
The Head of the Serbian Assembly's standing delegation to the Parliamentary Assembly of the Council of Europe Aleksandra Tomic is also part of the National Assembly delegation.


---
---
tuesday, 16 august
12.00 - press conference of MP Srdjan Milivojevic (National Assembly House, 13 Nikola Pasic Square, Central Hall)