National Assembly of the Republic of Serbia / Activities / Activity details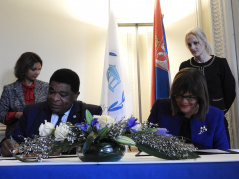 8 February 2019 The Speaker of the National Assembly of the Republic of Serbia Maja Gojkovic and the Secretary General of the Inter-Parliamentary Union Martin Chungong
Friday, 8 February 2019
Gojkovic in Geneva: Serbia Will Be Good Host of IPU Annual Session in October
At a solemn ceremony in Geneva, the Speaker of the National Assembly of the Republic of Serbia Maja Gojkovic signed the Agreement between the National Assembly and the Inter-Parliamentary Union with IPU Secretary General Martin Chungong on the 141st IPU Assembly, to be held in Belgrade, 13-17 October 2019.
---
On the occasion Gojkovic said that having the IPU annual session in Belgrade is a great honour for the National Assembly of the Republic of Serbia and the state itself, stressing that it is the result of the Serbian delegations' active participation in the IPU in the last few years.
Gojkovic said she was sure that Serbia would be a good host and organizer of this important parliamentary forum, reminding the attending that the 141st IPU Assembly has a historic meaning for Serbia because its takes place in the year of a very important IPU jubilee – its 130th anniversary.
The National Assembly Speaker said that the Serbian Parliament has already begun preparations for this important event and Belgrade expects to be visited by a great many parliamentary delegations from all over the world in October.
Saying that Serbia will have the honour to host an IPU session after 56 years, Gojkovic went on to stress that this is an exceptional occurrence, having an IPU Assembly in a European country outside of Geneva after a long while, seeing how the last session in a European country was in Germany 20 years ago.
The ceremony was attended by the President of the Inter-Parliamentary Union Gabriela Cuevas Barron who said that the session in Belgrade will be the first in Europe after a long while and pointed out that the Serbia Assembly Speaker had always given her good initiatives.
Cuevas Barron said that the coming Belgrade session will be significant for both the history of the IPU and Serbia.
The ceremony was also attended by parliament speakers and the Director-General of the United Nations Office in Geneva Michael Møller.
On the eve of the ceremony Gojkovic met with the President of the Inter-Parliamentary Union Gabriela Cuevas Barron and Secretary General Martin Chungong and on the occasion stressed that in the coming period the National Assembly would work wholeheartedly on the objectives promoted by the Inter-Parliamentary Union and advance cooperation with the organization and its members.
In Geneva, Gojkovic is taking part in the first meeting of the Preparatory Committee for the Fifth World Conference of Speakers of Parliament of the Inter-Parliamentary Union in Geneva, 8-9 February.


---
---
monday, 23 may
No announcements for selected date